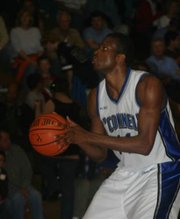 Though he's a senior and his high school career came to an official end a month ago, O'Connell center Frank Ben-Eze knows his final basketball curtain call hasn't come to a close. Not for this 6-foot-10, 230-pound shot blocker and rebound maven — not by a long shot.
But unlike the beginning of what was set to be a stellar senior season, the Nigeria native now isn't quite sure where his basketball path will wind up. In fact, in the past two months, a torn knee ligament and a newspaper article has flipped his basketball world upside down.
Ben-Eze, who had committed to Harvard in what was touted as a Crimson recruiting coup, has reopened his commitment. And now, even with a torn anterior cruciate ligament and meniscus injury he suffered in the Washington Catholic Athletic Conference final, he's still not sure where his future is headed.
<b>ACTUALLY, THE</b> roller coaster ride started in the fall.
Big time college coaches were peeking in on O'Connell's open gym sessions. Seth Greenberg, Roy Williams, Gary Williams. You name it — they were there. Even 11 head coaches came in one day, trying to catch a glimpse and influence the next wave of recruits from one of the WCAC's successful programs of the past decade.
Jason Clark, one of the area's premier recruits, was there, perfecting his game. The wiry 6-foot-2 combo guard had committed to John Thompson III's storied Georgetown program nearly a year earlier, and was working with O'Connell head coach Joe Wootten on putting up 1,000 shots a day to improve his perimeter shooting.
Kendall Marshall, the team's point guard, was a full-time participant too. In late September, Marshall, a 16-year-old, 6-foot-3 point guard made national news when he became the youngest-ever player to verbally commit to the University of North Carolina.
But many of the coaches were there for the broad-shouldered Ben-Eze, who had come off an impressive summer with the D.C. Blue Devils AAU team. The same D.C.-based program that produced Kevin Durant, Steve Francis and Jarrett Jack in recent years, Ben-Eze had traveled the AAU circuit, revealing a soft hook and an increasing knack for the game.
Knowing that Ben-Eze wanted to finalize his recruiting process prior to the season's start, the college coaching fraternity lined up trying to lure a cornerstone to build their program around.
Frankly, there aren't many athletic 6-foot-10 centers roaming high school hallways, so his size alone was enough to pique interest. Reportedly, Maryland was chasing him initially and West Virginia offered. He later set official visits to Marquette and Virginia, both big-time programs in the Big East and ACC respectively.
In early October, Ben-Eze announced his selection, instantly giving Harvard basketball credibility. The Crimson has never won an Ivy League title in 51 seasons, and for Amaker, a charismatic coach with a high profile from stints at Seton Hall and Michigan, landing Ben-Eze was a big deal.
Immediately dubbed the Harvard's highest-ever ranked recruit, and even mentioned in "Sports Illustrated", Ben-Eze joined local products Max Kenyi, a 6-foot-3 guard at Gonzaga and 6-foot-7 forward Keith Wright from Norfolk Collegiate.
<b>IT WASN'T SOON</b> thereafter that the string of bad luck started. Around the same time, Ben-Eze suffered a stress fracture in his left foot. It was an injury that required rest, usually four-to-eight weeks in order to prevent further stress. But a few weeks later, Ben-Eze was ready for the season opener against Wakefield when he scored 10 points and grabbed 13 rebounds on Nov. 30.
"It was an aggravating injury," Wootten said. "It didn't stop him from jumping and dunking, but it would ache. It certainly didn't help him."
During a WCAC 30-point victory in early January, Ben-Eze was severely limited and had trouble finishing around the basket. He played sparingly.
Then, when Wootten with a guard-oriented lineup after two previous losses to Gonzaga — with Kenyi as its best player — in the WCAC championship at Bender Arena, the injury bug bit him again.
In the game for a mere 32 seconds, and after recording a block, Ben-Eze tore two ligaments in his right knee, forcing O'Connell to finish the game with five guards.
Without its premier frontcourt presence, the Knights lost in the championships of both the Virginia Independent School Athletic Association (VISAA) and Alhambra Catholic Invitational Tournament. Though O'Connell avenged a loss to Benedictine in the ACIT semifinals, Gonzaga still edged the Knights with a 49-43 win.
To make matters worse, an early March report by the "New York Times" highlighted some questionable recruiting tactics by Amaker and assistant Kenny Blakeney, who was a high school teammate of Wootten at DeMatha.
After the article came out, according to Wootten, Harvard, which does not offer traditional athletic scholarships, required Ben-Eze to obtain a higher entrance score.
Harvard, like all Ivy League schools, uses a formula to judge the worthiness of prospective student athletes.
A player in Amaker's basketball program is mandated to have a 171 on the Academic Index, which is computed on a 240-point scale, with 80 points apiece based on SAT I scores, SAT II scores, and class rank. Though, admissions decisions will weren't sent until March 31, Harvard was unwilling to wait for Ben-Eze to hit the 171-plateau. Instead, he called Amaker and re-opened his recruitment.
"It was a mutual thing," Wootten said.
<b>BEN-EZE VISITED</b> NCAA Tournament darling Davidson over the past weekend on an unofficial visit, and is set to visit Georgia Tech this coming weekend. With schools scrambling to fill scholarships due to transfers and coaching changes, the interest in the Nigerian born center has skyrocketed.
"Frank, defensively and rebounding wise can help any program in the nation," Wootten said. "He plays hard, he's a great kid and a great student. He's just raw offensively because he hasn't played that much."
He narrowed his list to six schools in late March, but is reportedly garnering interest from UCLA, Virginia Tech, LSU, Pittsburgh and Rutgers, with Indiana as a possible wild card since Tom Crean was just hired. But according to Wootten, the more likely scenarios would be that Ben-Eze chooses between the University of South Florida, Duquense, Georgia Tech or Davidson.
Ben-Eze is set to have surgery on May 8 by one of the Redskins orthopedic surgeons. Doctors expect Ben-Eze to be "on his feet and ready to go by mid-September," according to O'Connell director of communications Garrett O'Donnell.
For a 15-year-old that came halfway across the globe to play basketball, it doesn't appear that Ben-Eze's basketball odyssey is anywhere near over. Not by a long shot, though in the past two months, it's taken a few unexpected turns.
"The change he made from his junior year to his senior year was significant," Wootten said. He could make free throws. He was more skilled — and that was in one year. The more he does that, the better off he's going to be."