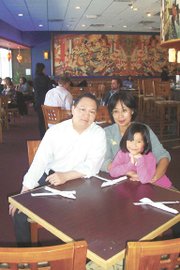 <b>WHEN SU LY</b> decided to go into the restaurant business, he thought it would make his life easier.
<p>"'I need a business that is stable,'" Ly recalled thinking. "But it's tougher than I thought."
<p>Tough is a relative term for Ly, however. In the late 1970's, he fled his homeland of South Vietnam when the Communist-led North Vietnam invaded. Ly spent two years in a Hong Kong refugee camp and then emigrated to Arlington in 1980 at the age of 14. He has lived here ever since.
<p>Now Ly and his wife Sarinda are the owners of Mei's Asian Bistro, a Chinese and Japanese restaurant located in North Arlington. Mei's, which opened in the spring of last year, is Su Ly's first venture into the restaurant business and, according to his wife, it got off to a rocky start.
<p>"The first month was rough," Sarinda Ly said. "The first day we opened we didn't even have aprons. I was running around looking for an apron. The businesses opened at 11 and I was running around with an apron."
<p>"We were having a lot of problems," she added. "But looking back we are laughing now. It's funny now but at the time it wasn't funny."
<p><b>SINCE THEN,</b> Mei's has gained its footing and has grown to become a successful — yet still time consuming — business venture for the Ly's. "Now it's busy," Su Ly said. "It's a different kind of headache. But it's a good problem to have."
<p>The restaurant serves up both Japanese and Chinese cuisines with trace influences of Thai flavors, courtesy of Sarinda Ly who immigrated to Arlington from Bangkok in 1992. The restaurant also features a wide range of vegetarian dishes.
<p>"They have chicken [on the vegetarian menu] but it's soy chicken," said Katherine White, a regular customer. "You don't see that too often… For the vegetarian person that's really good."
<p>White said that she keeps coming back to Mei's because she lives in the neighborhood and is attracted to the restaurant's elegant décor, which features large, Asian-themed murals and ornamental urns.
<p>"I love the atmosphere," White said. "It's beautiful inside."
Su Ly said that he focused on the ambiance of his eatery because of his professional background. After attending Wakefield High School in the early 1980's, he got a degree in graphics from the Arlington Career Center and worked for a local printing company.
<p>But, after many years, Su Ly had an urge to be his own boss so decided to go into business for himself. Now that the restaurant is hitting its stride, the Lys are focused on improving their bistro and making it an even more welcoming environment for their patrons.
<p>"Customer service is very important," Sarinda Ly said. "A lot of times we make mistakes and you just have to be there. Hopefully they'll forgive us and they'll be back."
<p>"This is the people business," Su Ly added. "Some complain but there are a lot of good people."