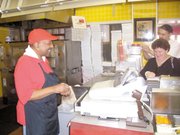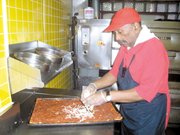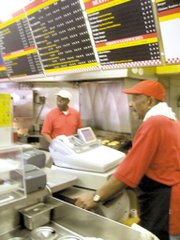 <b>IT STARTS WITH</b> the dough. Made fresh every day, the dough is spread out on a large rectangular cookie sheet where it's slathered with sauce and baked on high heat for 10 to 15 minutes.
<p>Then it gets taken out of the oven, slathered with more sauce and mozzarella cheese and baked again. The final product is a charred, oozing slice of Mario's pizza.
<p>This routine has taken place over and over again at Mario's Pizza House in Arlington. The Wilson Boulevard staple is celebrating its 50th year in business this week.
<p>"It's like an icon," said Barbara Deemer, a longtime Mario's loyalist. Deemer grew up in Arlington but now lives in Nokesville, Va., just south of Manassas. On her days off from work, she drives from Nokesville to Arlington for a slice of pizza and a steak and cheese. "Even with gas prices and everything, it's still a treat," she said. "They change the look sometimes but the food doesn't really change."
<p>The fact that Mario's could stay in business in the same place doing more or less the same thing for five consecutive decades is remarkable. But what's even more remarkable than that is that two of its employees, Joe Williams and "Lefty" Lindsey, have been making pizza at Mario's, day in and day out, for nearly as long as it has existed.
<p>The two were hired in 1962 and 1964, respectively, and have been working at Mario's ever since. During that time, Williams has racked up a mind-boggling, work record: he's been at Mario's for 10 to 12 hours a day, every day, not once calling in sick.
<p>"It's not just that [he works] every day," Mario's owner Alan Levine said. "For about 30 of those years he worked seven days a week and never took a day off. He wouldn't take a day off … During that time he only took one day off and that was for his wife's funeral."
<p>"I don't know how I did it," Williams said, sitting in the restaurant's storage area next to slabs of rising dough. "I was always taught to work, work for what you get."
<p><b>THE STORY OF</b> Mario's Pizza House begins in the spring of 1958 when Levine's parents set up shop in a sparsely populated area of Arlington. The restaurant, which was given the name Mario's to sound more Italian, served up two items: submarine sandwiches and pizza.
<p>Despite the changes that the Clarendon neighborhood has witnessed over the last 50 years, from the installation of the Metro to the proliferation of high-rise apartment buildings, not much has changed at Mario's since then. Mario's briefly expanded into a franchise near Ben's Chili Bowl in the District but "It didn't work out right because we couldn't get the staff. We couldn't get another Joe."
<p>Mario's is still in the same building it occupied in 1958. It still serves the same items, with some additions here and there. And it still serves roughly the same clientele, Levine said.
<p>Because Mario's is open late and is located near the bars on Clarendon and Wilson Boulevards, it tends to attract a rough and tumble-type of crowd. Levine said that things have gotten much better since the days many years ago when gangs were prevalent in the area and there'd be a fight about once a month in the parking lot.
<p>Mario's is all Levine has known throughout his life. He took over ownership of the business in the late 1980s after his mother, Norma died. He began working at Mario's, slicing the meats and cutting the cheeses, when he was just 11 years old. And while he wasn't born at the restaurant, Levine said, he was conceived there.
<p>"This place is never closing," he said. "It's one of those kinds of businesses where, no matter how far people have gone or how long the have been gone, they come back and they're very happy to see Mario's. Joe's still here and Lefty's still here and everything is still pretty much the same."
<p><b>WILLIAMS</b> is the real reason for Mario's longevity over the years, Levine said. People will come from miles away just to chat with him. "It pisses me off because sometimes people come in and they want to talk to Joe but they don't buy anything," Levine said. "I'm hoping that by the time he's ready to go, cloning technology will pick up enough so we can clone him for the future. Every restaurant needs a Joe … In this day and age, guys like him are just not there."
<p>Williams said that the reason he has stuck around at Mario's for so long and with so much dedication is "the way I was treated."
<p>He relates a story about the time in the early 1980s when Norma Levine asked him how much he had spent on Christmas gifts for his children that year. Williams, modest and unassuming to a fault, was reluctant to give her a dollar amount but his wife insisted that he tell her about the $1,000 they had spent.
<p>Levine didn't bring it up at work the next day or the following day and Williams was distraught, thinking that he may have misinterpreted his boss or, worse, that the $1,000 amount was too much. "I slept that night," he said, "But I didn't sleep well." Finally, Williams told her how much his family had spent. On the following payday, Williams found a $5,000 check in his locker.
<p>"I'll never forget it," he said. "[Levine told me] 'I could've given you a ham or a turkey and said "Merry Christmas" … But I want you to know, you mean more to me.'
<p>"Isn't that nice?" Williams said, clad in his usual red shirt and apron, beaming from ear to ear.