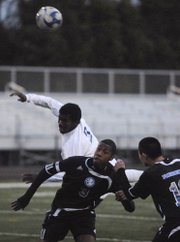 <b>Coach: </b>Kyle Morrisey, second year (12-6-1)
<b>2007 Record: </b> 12-6-1
<b>Key Losses: </b> F Antonio Soto
<b>Key Players: </b> F/MF/D Lonnie Carter, SR; D Danny Arriola
<b>Quotable: </b> "We aren't going to take a guy like Antonio and directly replace that, we are going to have to spread it out. In our scrimmages and our first game, we have been able to do that." – head coach Kyle Morrisey.
<b>Outlook: </b> The Fairfax boys soccer team finished in second place in the Concorde District last year, thanks in large part to forward Antonio Soto, who scored 46 goals during his first two years at Fairfax.
Unfortunately for head coach Kyle Morrisey's Rebel squad, last summer, Soto decided to further his soccer career in Uruguay, withdrawing from the school and leaving the Rebels with a gaping hole to fill in their offensive attack.
"I would be lying if I say that it doesn't hurt because a talent like him is irreplaceable," said Morrisey. "A lot of our goals came through him. The mentality was to get the ball to Antonio and he would do magical and wonderful things, which he did."
Soto is currently playing for a club team in Uruguay, but has been careful not to sign any professional contracts, which would remove his amateur status and make him ineligible to return to play high school and college soccer in the U.S.
On the first day that Division I college coaches were allowed to begin recruiting the would-be junior, Morrisey received a flood of e-mails hoping to court the former Rebel star.
"All I could give them was his e-mail in Uruguay," said Morrisey, who told the colleges that they were welcome to try and lure Soto back. "I don't hold my breath that I will see him anytime soon."
So the Rebels have moved on, switching senior defender Lonnie Carter to attack and trying to break the "get the ball to Soto" mindset.
"The players have to become more responsible and the coaching staff is hammering that into them. We can replace these goals, but it is not just going to come from one person," said Morrissey.
Carter, who scored seven goals with eight assists last year, has helped out, however, scoring twice in the Rebels' opening 3-2 win over Madison.
"Lonnie is an amazing talent because he can play defender, he can play in the midfield and he can play in the forward spot," said Morrissey. "He is looking forward to [scoring more goals]."
The Rebel coach is quick to point out that while Soto was a vital part of his team last year, he wasn't the only member.
"We had a good team last year," said Morrissey. "We finished second in the Concorde District, one of the hardest in the state. Antonio is the only team guy out of there that we lost."