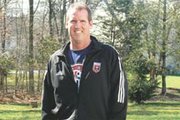 A coach who brought enormous success to the Herndon High boys' soccer program in the past is back at the helm of the Hornets once again.
Sean Lanigan, who led Herndon to three Northern Region crowns (1996, '97 and 99) during his five-year reign as the team's head coach from 1996 through 2000, is once again in charge of the program.
When Lanigan, who originally left the Herndon soccer program in 2000 in order to commit more of his time to club soccer coaching, was asked by Herndon officials to interview for the open position this past October, he initially was not interested.
"I don't have time," said Lanigan, of what his answer was.
Lanigan has a full plate in regards to soccer, coaching a U-17 boys' team in McLean, coaching three Southwestern Youth Association (SYA) teams of which his kids are members of in Centreville, and also working regularly with young goaltenders within McLean Youth Soccer.
But when asked by Herndon a second time in November to interview for the Herndon vacancy, Lanigan decided to give it some serious consideration.
"I did some research and found out there were some good players there and said, `I'll give it a shot,'" said Lanigan.
He was interviewed and ultimately offered the job. He accepted. Certain accommodations were made to help Lanigan, who will continue to coach several other teams, be able to juggle his busy soccer schedule.
"I needed certain practice times and practice fields so I could get back to McLean," said the coach.
Herndon High held its initial tryouts, in which 140 youngsters combined came out for the varsity and JV teams, at Herndon Middle School a few weeks ago. Beginning this week, the Hornets were set to begin practicing on the new turf field at Hutchinson Elementary.
<b>THUS FAR</b>, Lanigan has thoroughly enjoyed his initial few weeks as Herndon's new soccer coach. The Hornets recently opened the new season with a 3-0 road win over non-district opponent Marshall.
"I love it," said Lanigan, of working with his new team. "It's a good group of boys. They are good soccer players who are trying to [set] their philosophy to a team effort. That's how we had success before."
The coach said Herndon will need to receive contributions from starters and backups both in order to have a successful season.
"It takes 15 or 16 [players] over a long season," said the coach. "You play, throughout the season, so many games and kids are coming off club games and have tired legs. You can't do it with just 10 or 11 [players]."
Two of Herndon's top players this spring will be senior center midfielder Chris McLaughlin, who recently committed to play the sport collegiately at the University of Virginia, and junior center midfielder Uwem Etuk, who this past fall was a member of the Virginia State Cup champion Springfield Royals U-17 team.
"They are very creative, very skilled and good on balls," said Lanigan, of his talented duo. "Chris is a good finisher. Uwem is a good creator and skillful on the ball. Chris is more an attacking [player]."
Two of the team's key defenders will be senior center midfielder Anatole Doak, who will play soccer in college at Cornell University, and senior center back Sol Moutaza, who will play college ball at Colgate.
Another key player for the Hornets will be junior striker Sean Murnane, who as a sophomore last year committed to play at UVA. Murnane played his first two years of high school soccer at Westfield High School before transferring to Herndon for this school year.
"He's a tremendous striker," said Lanigan, of Murnane. "He's a finisher. He's fast and will score a lot of goals."
In the net will be sophomore goalie Alex Stopa, a part-time starter last year.
"He's been impressive," said Lanigan, of Stopa. "Alex has stepped up very well. He is a very good shot stopper, reads the game well and has good size and quickness. He can get to the low balls."
The Hornets have a steady backup in goalie Patrick Ramos, also a sophomore who played the position as a freshman last year.
Herndon, across the board, has a talented, 23-member varsity team and is likely to improve on last year's 5-8 season.
The coach said it was quite a job deciding who would play on the varsity squad this season.
"At tryouts we were trying to figure out who is who," said Lanigan. "We tried to find 20 players who could play [at a high level]. Now, we're trying to find out our best lineup and who can contribute. We had a solid win [over Marshall] and two good scrimmages."
Herndon's JV head coach this season will be Rob Green.
The Herndon varsity was scheduled to play two non-district home games this week against Falls Church on Tuesday and Thomas Jefferson on Thursday.