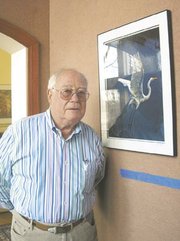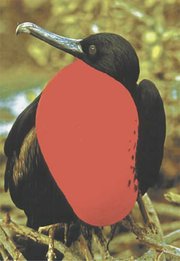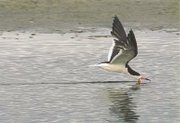 On Feb. 15, one of his photos was on display as National Geographic's online photo of the day. On March 15, around a dozen of his photos were hanging in Katie's Coffee, midway through the month-long exhibit. W. E. "Bill" Garrett, a resident of Great Falls since 1963, worked at National Geographic for 36 years, 10 of them as editor. He has visited every continent except Antarctica for assignments as a writer and photographer, but his current photos have subjects a little closer to home: almost all of them show the birds of Great Falls.
On assignment, he was usually taking photos of people, and occasionally doing so got him in trouble with the authorities: he said he has been arrested three times. His new subjects cause him less concern. "I've had no problems with birds," he says with a laugh.
And birds seem to have no problem with Garrett taking their portraits. Carolina wrens, great egrets, pileated woodpeckers and house finches adorn the walls of the coffee shop, each with a silver-inked "Bill G." in the lower right corner.
Although Garrett takes photos of other animals – one striking image is seven deer eating pears from a tree in his front yard – none of those made it into the collection for the current show, which is on display through March 31. Many of the bird photos were taken around his Seneca Road home as well, as the birds visited the seed and suet feeders in the yard. A few photos are from Chincoteague, Va., a few from the Galapagos Islands, and a few recall some of the more off-the-beaten-track locations he visited with National Geographic: Serbia, India and Cambodia. Coincidentally, Garrett's Feb. 15 photo of the day was also an image from Cambodia.
Garrett found some common elements in Chincoteague and the Galapagos: both areas allowed him to get very close to his subjects. In Chincoteague, Garrett said, he came across an egret feeding right next to the road and was photographing it when several skimmers came onto the scene, hovering above the water and grabbing Garrett's attention for a few moments before they left the area. "The whole thing lasted maybe two minutes," he said.
Similarly, on the Galapagos Islands, there are paths that take visitors through the animals' habitats. "The birds are right beside the path," Garrett explained. He has "masses and masses of pictures of birds" from the islands, including one of a frigate bird on display in the current show.
His advice for photographers is just to be there. "Don't worry about the intricacies of photography, the photography will take care of itself," he said. "You have to be there where the people are, you have to be there where the birds are."
PHOTOGRAPHY IS NOT Garrett's only artistic hobby; indeed, it was not even his first. He grew up in Kansas City, and at age 12 was exercising his skills in woodworking. Garrett built a small house in the yard in between mowing lawns in the neighborhood, and soon found he needed to add a darkroom to the house. He mowed the lawn for a retired teacher two doors up the street, and to thank him the woman gave him his first camera.
Garrett and his wife Lucy pointed out tables in their home that he had made. A coffee table top is a cross section of a huge maple tree, a slice from a tree in Loudoun County under which Gen. George Mosby received his orders during the Civil War. When the tree died, the Garretts bought two cross sections to make tables. "It took a long time to smooth that down," Garrett admitted.
Another tree provided several pieces Garrett fashioned into tabletops for his family. A Y-shaped small side table shows where the trunk of a tree split in two, and a long buffet-type table joins twin slabs of wood. From the same tree, Garrett made two eight-foot long dining tables, one for each of his sons.
Art, it turns out, is something of a family business as well. Among photos from National Geographic co-workers, including current magazine editor Chris Johns, are some taken by Garrett's son Kenneth, who is a freelance photographer for the magazine. "He's a better photographer than I am," Garrett says, but his wife quickly interjects that they each have their fields. For her part, Lucy Garrett cites "too much competition in the family" for her to be comfortable with photography, but she makes quilts. A square quilt with muted natural colors and a variety of designs hangs in the dining room.
AFTER ASSIGNMENTS that took him to six continents, Garrett still enjoys traveling, but without the added pressure of doing extensive research before a trip. He said his most interesting experiences were those in southeast Asia, including Vietnam, Laos and Cambodia. In addition to the beautiful images of ancient statues in Angor Wat, he was also the first photographer to capture scenes in Cambodia's killing fields. Still, he prefers to leave today's international topics for today's writers and photographers: "I'm not anxious to go out any more."
Now he and his wife travel for fun: they prefer taking cruises to see a variety of places without the hassle of changing hotels. Next on their agenda is probably a trip to the Baltic Sea region, visiting Finland, Latvia, Lithuania and Estonia. And maybe, Garrett says, he will plan a summer trip to Antarctica, so he can cross that off his list.