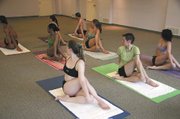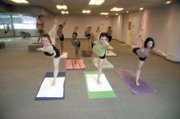 Over the past two decades, yoga has become more popular in the United States and in Northern Virginia.
Several businesses, gyms and local governments offer classes to their clients and employees. Some insurance policies even cover part of the cost of yoga classes because of the health benefits.
"If you get involved for at least three months, you will start to see some major changes to your body," said Fairfax County yoga instructor Cynthia Bialek.
Bialek has been teaching yoga for 25 years and holds classes at gyms and health clubs in Chantilly, McLean, Herndon and Fairfax. She also developed the a new form of yoga, called yava yoga, and hosts a yoga exercise show on Channel 10 in Fairfax County.
Yoga can be for anyone, regardless of physical condition, she said.
"I have older clientele. I have people who take yoga with terrible backs," said Bialek, who teachers several different types of yoga classes.
But sometimes it can be hard to determine what type of yoga is best for the individual. Here are some brief descriptions of different types of yoga offered in the area.
<b>Bikram Yoga</b>
Bikram yoga, otherwise known as "hot yoga," is not for the faint of heart. Bikram classes are conducted in room heated to at least 105 degrees Fahrenheit for approximately 90 minutes. This form of yoga focuses on 26 postures, which are each performed twice during class. Bikram was developed specifically for people who have problematic knees but can also help with other problematic joint or back problems. Both beginner and advanced students take class at the same time. It is suggested to bring a towel and water to class.
Contact:
* Bikram Yoga of Alexandria - 5416 Eisenhower Ave., Alexandria, VA 22304
www.bikramalexandria.com
* Bikram Yoga College Reston – 11485 Sunset Hills Road, Reston, VA 20190 www.restonyoga.com
* Bikram's Yoga College of India – 1057 West Broad St., Falls Church VA 22046 www.fallschurchyoga.com
<b>Power Yoga</b>
The term "power yoga," developed in the 1990s, describes a practice that is vigorous and fitness based. Instead of staying in one yoga posture for a period of time, power yogis tend to move from one position to the next at faster pace.
"It is more of an athletic style of yoga. A lot of people who are really active like it. It gets your heat pumping," said Melody Abella, a yoga instructor who offers private instruction and currently teaches classes to City of Alexandria employees.
Even if more athletic people tend to like the power yoga, Abella said she has people of all body types and fitness levels in her classes. She can also adapt the poses to make them easier for people with back pain or other physical limitations.
Since people do sweat in class, she suggests those going to power yoga drink a lot of water before class.
Contact:
*abellaYoga – available for instruction in private homes/businesses, www.abellayoga.com
<b>"Gentle" Yoga</b>
There are more soothing types of yoga available for people who are not interested in getting their heart pumping. Instructor Mary Elizabeth Beim describes the type of yoga she teaches at McLean Community Center as "gentle and compassionate."
"Sweating is not emphasized. It happens but that is not the goal," she said.
Beim's 90-minute class consists of an hour of physical yoga poses and a half - hour of breathing and meditation exercises.
Her classes accommodate all types of people, from teenagers to those over 70 years old.
"I have people who may not have thought they were capable of doing yoga. People who are at an age or a fitness level where they might be a little bit scared," said Beim.
Several people in Beim's classes are trying to get back into a fitness routine after they have not been physically active. Others are trying to increase their range of motion because they become so stiff.
Contact:
*McLean Community Center – 1234 Ingleside Dr., McLean VA, 22101 www.mcleancenter.org
<b>Prenatal Yoga</b>
Yoga can also be a great solution for expecting mothers who want to stay in shape during pregnancy, said instructor Julia Long.
The Burke resident leads prenatal yoga classes through Virginia Hospital Center and the INOVA health systems in the Northern Virginia area. Most of Long's students have already been physically active and are looking for a way to continue a fitness program during pregnancy.
"Prenatal yoga can help a mother recover after pregnancy because she will be in better shape," said Long.
With mothers-to-be, Long avoids the deep twists, core strengthening and belly poses normally associated with yoga. The goal of class is to stretch and breathe and not necessarily to get the heart rate up, she said.
"We are stretching the back because a lot of people develop back issues. We do hip openers," said Long.
Women at all stages of pregnancy can take the class, she added.
Contact:
*Baby Belly Yoga – various locations, 703-978-9494
<b>Age-Specific Yoga </b>
Yoga is not just for adults anymore either.
Herndon's Health Advantage Yoga Center offers some yoga classes specifically geared toward children. Studio owner
Susan Van Nuys said she has sessions for six to 11 year-olds and teenagers.
"Yoga for kids is generally a little bit more fast paced to keep the children interested. There are games and stories that go along with the classes," said Van Nuys.
Van Nuys said yoga is also good for children because it helps develop focus, motor skills and self-esteem.
"Surprisingly, for children in our society, it is also very good for stress reduction," she added.
Van Nuys studio, which offers approximately 60 classes per week, also hold classes specifically for senior citizens and those recovering from breast cancer.
Contact:
* Health Advantage Yoga Center - 1041 Sterling Road, Herndon, VA, 20170, www.healthadvantageyoga.com
<b>"Blended" Yoga</b>
Like Bialek, several studios in the area do not adhere strictly to a particular type of yoga but borrow from a lot of different programs.
"People have developed similar styles but put their own spin on it," said Derek Hoffman, who owns Bushido Studios in the Kingstowne area.
Hoffman and his wife have borrowed practices from several different schools of yoga and emphasize the relationship between instructor and student instead of adherence to a single type of practice.
Some yoga classes get up to 50 or 60 students but Bushido keeps its yoga sessions small, with a maximum of 10 students at one time, said Hoffman.
"Our teacher's know every student's name. It is a more interactive environment. We can tailor a pose or theme to an individual," he said.
Hoffman, whose studio also offers martial arts, said instructors are also able to address people's specific ailments. If a student has a bad back or weak wrists, they can design a yoga program to address those specific problems, he said.
Contact:
*Bushido Studios – 7576 Telegraph Road, Alexandria, VA 22315, www.bushidostudios.com