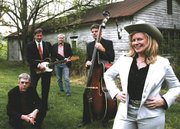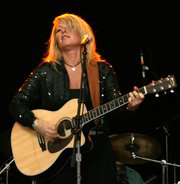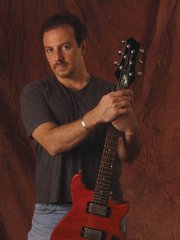 Jammin' Java hosts a revival of roots rock Thursday, May 22, when Ruthie and the Wranglers, Patty Reese and Billy Coulter all take the stage. The show starts at 7:30 p.m., and tickets are $15. To purchase tickets in advance, visit www.jamminjava.com or call 703-255-1566, ext. 8.
Ruthie and the Wranglers
Introduce yourself and the band:
We are Azalea City Recording artists Ruthie and the Wranglers. I am the front woman and the only woman. I get to write and perform with my favorite people: Greg Hardin a great songwriting partner, vocalist and bass player; Phil Mathieu, a knock-yer-socks-off instrumentalist slinging B-bender Telecaster, mandolin and occasionally nylon string guitar; Bill Starks, sporting classic vocals, jumpin' piano and organ; and Robbie Magruder, one of the best ever, on drums. Before Wranglers (that's BW) Greg was with Jr. Cline, Phil played with Charlie Byrd, Bill played with Cathy Ponton King and still does and Robbie played with Mary Chapin Carpenter and now the Thrillbillys. The variety of backgrounds make for an interesting and solid lineup.
When did you start playing and performing music?
I've been playing music almost 20 years and my first gig was playing at a party. (I was in a band called Plum Crazy with none other than Patty Reese. We were an all-girl original country band) I was so nervous I drank 3 shots of tequila before I went on. There's nothing worse than a nervous drunk. I barely remember it. I saw many live local bands just out of high school and thought I could do it too. So I did, and so I am, and we're working on CD number six now.
Any local connections to Northern Virginia?
Our drummer Robbie Magruder is from NoVa and we love the Virginia venues. Birchmere, Jammin' Java and First Night Alexandria! I have a body art business called The Latest Craze based in Alexandria with my business partner who recently moved to Austin. I think I've probably painted and/or tattooed as many people in Virginia as I've sung to!
Describe your sound:
We're a harmonizing, high-energy Country, Roots Rock, Americana, Rockabilly, and sometimes Polka and Surf band. Never a dull moment.
Biggest musical influences:
Loretta Lynn, Hank Williams and Buck Owens (and secretly Doris Day) are probably my biggest influences. I'm related (3rd cousin) to Jimmie Logsdon, author of the Rockabilly hit "I Got a Rocket in my Pocket!" If you ask the rest of the band I'm sure you'd get totally different answers regarding their influences!
Latest addition to your iPod:
I just downloaded 15 Patsy Cline songs I'm learning for our upcoming tribute to Patsy Cline. Before that, The Speaks, Tom Russell and a 45-minute meditation session.
What is the equation for a good show?
A variety of tunes that make people remember, forget, or feel an undeniable emotion. I realize thirst is not an emotion but people do tend to get thirsty around us. Our original Surf tune and Johnny Cash will usually send 'em over the edge.
Anything special about the upcoming show?
I'm looking forward to an outstanding show. We all admire each other's talent and I just know it will rock unforgettably. No pecking order, just band after band of great fun stuff. I lean more Country, Patty more Rock and Billy more Pop. But we're all just leaning not falling! I'm expecting a splendiferous collaboration that will inevitably ensue at the show!
Where can fans find out more about you?
Anyone who wants to know more about me can either call my mother, or they can check out my Web sites:
www.ruthieandthewranglers.com
www.azaleacityrecordings.com
www.myspace.com/ruthieandthewranglers
http://www.cdbaby.com/cd/ruthiewranglers2
www.sonicbids.com/ruthieandthewranglers
*****
Patty Reese
Introduce yourself and the band:
I am Singer/Songwriter Patty Reese, winner of this year's Female Roots Rock Vocalist Wammie, as well as winning silver in the rock category for the Mid-Atlantic Song Contest. My band consists of some of the finest musicians in the Mid-Atlantic including Dave Chappel on Telecaster guitar and 2 time winner of WAMA's musician of the year, Brian Simms on Keyboards and the best rhythm section anyone could wish for-Sonny Petrosky on bass and John Tracey on Drums
When did you start playing and performing music?
While in junior high school I was in a trio and performed in coffee houses and church's in the Washington metropolitan area.
Any local connections to Northern Virginia?
I have performed regularly at a variety of solo acoustic gigs in Northern Virginia, as well as with my band during the summer at a number of Virginia park concerts. I am also the director of education for the Songwriter's Association of Washington D.C., which is based in Northern Virginia.
Describe your sound:
Soulful, Roots Rock
Biggest musical influences:
There's so many ... Bruce Springsteen, Patsy Cline, Etta James, Bonnie Raitt, Loretta Lynn, Tom Petty, Billy Holiday, June Chrsity, too many to mention
Latest addition to your iPod:
Brandi Carlise, The Story
What is the equation for a good show?
It's so important to respect the listener-the true music lover. I try to give variety in style and lyrical content and yet weave in an infectious common thread of Roots/Soul/Americana sound throughout the performance.
Anything special about the upcoming show?
I rarely perform with the band in this area and it's a great opportunity to catch us at our best in a "listening" room like Jammin' Java.
Where can fans find out more about you?
www.myspace.com/musicianpattyreese
www.pattyreese.com
*****
Billy Coulter
Introduce yourself and the band:
I am Billy Coulter, a singer/songwriter with a Roots Rock band of the same name. The group has been together for about five years and in that short time we've been honored with several awards. Most recently, I received the 2007 Washington Area Music (WAMMIE) Award for Roots Rock Male Vocalist of Year. Several of my songs have been honored by both the Billboard and Mid-Atlantic Song Contests, including the latter's Gold Award for 2005 Rock Song of the Year.
As a singer/guitarist I perform regularly in the Metro area as either an acoustic act or with band members Tommy Derr on lead guitar and backing vocals, Chuck Dolan on bass and backing vocals, legendary DC drummer Doug Tull (Razz, Tommy Keene) and occasionally Brian Simms (Junkyard Saints), who performed all the keyboards on our new album.
Our second CD will be available on Confluence Records in a few weeks with a release party to follow on June 21 at McGinty's in Silver Spring.
When did you start playing and performing music?
I started playing music seriously when I was 18 and had some regional success in my college years (including winning a contest to perform live on TV) with my band The Inserts. I gave up performing my music about 20 years ago and "got a real job." After a series of life-changing events around 2000, I started writing songs again and was fortunate to get the help of L.A. producer Steve Thoma (formerly with Fleetwood Mac and Glenn Frey) to record a demo CD, which later became the foundation for my first album.
Any local connections to Northern Virginia?
Prior to our marriage, my wife, Maggie, lived in Arlington for many years, where we'd spend a lot of time at local music venues and restaurants. Although we now live in Maryland, we work in DC and quite often find ourselves drawn to Northern Virginia for after-work and weekend activities.
Describe your sound:
We play rootsy pop that's reminiscent of classic rock with refreshing, modern melodies and lyrics. Drawing on influences as varied as Bob Dylan and Johnny Cash to Mott the Hoople and Squeeze we've got an organic sound that's familiar but definitely new.
Biggest musical influences:
Ian Hunter, John Lennon and Bob Dylan, are the main inspiration for the music I write. They possess earnestness in their story telling that I find engaging and yet challenging for me to attain in my own works.
Latest addition to your iPod:
Robert Plant & Alison Krause, Duffy and one of Bryan Ferry's covers from his recent "Dylanesque" album. I also grabbed some old Louis Jordan tunes to learn for my new jump-blues/rockabilly band called The Natty Beaux.
What is the equation for a good show?
When the crowd gets into what we're playing there is a special connection and it makes us play harder. Then the band and the audience are on a common wavelength.
Anything special about the upcoming show?
I am so happy to be playing with Ruthie and Patty. I have a lot of respect for their musicianship and they are both great friends. The bandmembers of each group are also some of the finest players in town and this will surely be a fun night of excellent songs.
Where can fans find out more about you?
Aside from the online links listed below, I recently wrote a story about my experience attending the Rock 'n Roll Fantasy Camp for the AARP website, complete with videos of me performing with members of Kiss and Bad Company. http://www.aarp.org/leisure/
www.billycoulter.com
www.myspace.com/billycoulterband
www.cdbaby.com/billycoulter
www.sonicbids.com/billycoulter
www.nattybeaux.com