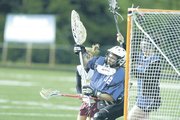 All spring long, the Broad Run High girls' lacrosse team has been a dominant force within the Dulles District. So there was every expectation for that trend to continue at last week's district tournament.
And that is exactly the way things went as the top-seeded Spartans won three consecutive playoff games, including a title game victory over Potomac Falls, to garner there third straight district tournament title.
Broad Run reached the district finals with convincing wins over No. 8-seed Freedom, 21-2, and No. 4 Dominion, 14-6. Then, in last Friday night's championship game versus Potomac Falls at George Mason High School, the Spartans came away winners again, defeating the No. 2 Panthers, 15-4.
Playing on George Mason's nifty all-purpose athletic field, Broad Run, on a cool, overcast spring evening, built an early 3-0 lead and never was seriously challenged thereafter.
"Teams have been out to get us because we've won," said Broad Run senior defender Krysten Johnson, of the challenge that comes with being the defending district champions. "But we really wanted it."
Johnson was this season's District Player of the Year and a huge factor in the Spartans' great success this season.
Next up for Broad Run going into this week was a Region II home playoff game versus Rockbridge County High of Lexington on Monday night.
The Spartans (15-3 overall record) are hoping to ultimately go as far or further than last year's Broad Run squad that went all the way to the Virginia State semifinals before finally losing to Oakton High.
"We're very excited," said Johnson, of this week's regionals and the chance to put together an outstanding postseason run. "I think we've got just as good a team this year, even better."
Broad Run coach Jen Melhuish loves the team camaraderie of her squad.
"We lost quite a few players from last year," said Melhuish. "But we've been very fortunate. We've got great girls and they've meshed together very well."
<b>IN THE FINALS</b> win over Potomac Falls, Broad Run had a huge game from junior midfielder/attack Meredith Rogers, who scored six goals with an assist. Senior Katie Mesmer had assists on four of Rogers' goals, while also scoring two times herself.
Also contributing to Broad Run's big scoring night were junior middie Kate Sistare (3 goals, 2 assists) and sophomore attack Kailey Phillips (2 goals). Johnson and sophomore middie Nina Dunay both scored as well and junior middie Samantha Lewis had an assist. Spartan junior goalkeeper Allison Bogle earned the win in the net.
Potomac Falls, also headed for regionals as a result of reaching the district tournament finals, was led by senior attack Kathryn Baumgardner, who scored three goals. Senior defender Katherine Dacanay also scored for the Panthers, and senior attack Cerrena McNanley had an assist in the contest.
Coach Melhuish said the Spartans were concerned about Baumgardner, the Panthers' First Team All-District attack player.
"We wanted to watch her," said the coach. "She's one heck of an athlete."
Baumgardner and her teammates were set to travel to Western Albemarle High (Crozet) for a region playoff game on Monday of this week.
<b>THIS HAS</b> been a breakthrough season for Potomac Falls and head coach Allan Dacanay (13-3). The Panthers, prior to this season, had never before played in a district title match. And this is the Titans' first-ever region playoff appearance.
"We didn't know how we'd be at the beginning of the season," said coach Dacanay. "We came together as a team and really worked hard in practice. That's why we did so well."
Dacanay said the team's strong spring season has drawn the attention of the local community. He said Potomac Falls has a good youth feeder program in Eastern Loudoun Lacrosse. That should mean a bright future for the program.
Potomac Falls reached the district finals with playoff wins over No. 7 Briar Woods, 13-6, and No. 6 Heritage, 11-10.
In the championship game, coach Dacanay said his team struggled early on in such areas as connecting on passes. The Panthers were coming off the hard fought, down-to-the-wire semifinals win over Heritage.
"The Heritage game was a really tough game," said Dacanay. "The girls gave it all they've got. They were exhausted.
"Broad Run is Broad Run – they're always tough," he said. "This is all knew to us being in the championship game. We were dropping passes we would not normally drop. But [making the district finals and regionals] is a big accomplishment."
Following the game, Potomac Falls was presented with the runner-up team trophy during postgame awards ceremonies. Broad Run earned trophies for both its regular season title as well as its tournament championship win.
Also recognized were the eight-team league's All-Dulles District players. First Team selections from Broad Run were Krysten Johnson (defense), Kate Sistare (midfield), Meredith Rogers (attack), Katie Mesmer (attack) and Allison Bogle (goalkeeper).
From Potomac Falls, Imani McCleary (defender), Katie Dacanay (defender/midfielder) and Katie Baumgardner (attack) earned First Team recognition.
Coach Dacanay was named Coach of the Year.
Making Second Team from Broad Run was Brogan Dublin (defender).
Other area players to make All-District were: First Team selections Alexa Rizzo (Dominion High) and Katie O'Shea (Briar Woods), as well as Second Team members Katie Saba (Briar Woods), Jeanie Tran (Dominion), Nicole Butt (Dominion), Alissa Kitamura (Briar Woods), Shannon Wood (Briar Woods), Meghan Butt (Dominion) and goalie Mariko Itchkawich (Briar Woods).