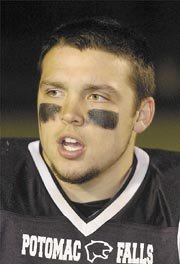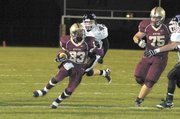 The Potomac Falls High football team concluded its regular season with a 48-10 win over Dominion last week. The Panthers (9-1) will host James Wood (8-2) of Winchester in a Region II, Division 4 semifinals playoff game this Friday night. James Wood is the No. 3 seed, while the Panthers are the No. 2 seed.
"They have a really good defense and run a 4-4 [alignment]," Potomac Falls coach Scott Woodlief said of James Wood. "Offensively, they kind of pound the football. They are real patient when it comes to offense."
Woodlief is thrilled that his team is playing at home in its first-round game. This marks the first year Potomac Falls has qualified for the football playoffs.
"For it to be a home game, it's a lot more exciting," he said. "Our [team] morale is good."
Potomac Falls' lone loss this season came against visiting Broad Run, 38-0, Oct. 24. If both the Panthers and Spartans win their respective semifinals games this Friday night, they would meet in the Division 4 title game next week.
Coach Woodlief said his team's primary goal this season was to win the Dulles District title. But Broad Run ended up winning the district crown. Potomac Falls' secondary goal was to make the playoffs.
"They've reached that and now they want to go as far as they can," Woodlief said.
In the Panthers' win over Dominion last week, quarterback Greg Woodlief completed 11 of 17 passes for 186 yards and four touchdowns in his team's win over Dominion last week. He also rushed for 72 yards and a score. His touchdown passes went to Chris Pelto (6-yard TD catch), Tarrell Owens (45 yards) and Chad McMichael (14 and 9 yards).
Potomac Falls running back Michael Baker rushed for 192 yards and two touchdowns on 21 carries.
Dominion finished 1-9 in its first season under Coach Karl Buckwalter. The Titans' lone touchdown against Potomac Falls came on a 37-yard pass play from quarterback Andy Pont to Aaron Good. Dominion also had a field goal from Charles Donkor from 28 yards out.
<b>BROAD RUN</b>, the district champion for the second straight season, completed a perfect 10-0 regular season with a 39-26 win at district rival Park View. A year ago, the Spartans also completed a perfect 10-0 regular season with a win over the Patriots.
Next up for Broad Run is a Region II, Division 4, home semifinals playoff game this Friday night against Loudoun County (6-4). The Spartans enter the four-team field as the No. 1 seed, while the Raiders, also members of the Dulles District, are the No. 4 seed.
Broad Run won at Loudoun County in a late season game Oct. 17.
The Spartans, after losing in the first round of the playoffs last year, are especially determined to win their first round playoff encounter this Friday night against the Raiders.
"When you lose, it's over," Broad Run Football Coach Mike Burnett said of the finality of the postseason. "The intensity of the playoffs is, `This is it.'"
The coach indicated his team's regular season win over Loudoun County won't mean much if the Spartans don't defeat the Raiders again.
"You kind of have to treat it as a whole different game," Burnett said of playoff games. "It's a different scenario with a different perspective."
Burnett is proud of his program's accomplishment in winning back-to-back district crowns. The Spartans have not lost a regular season game since 2006.
"It's very rewarding and a testimony to the hard work [the players] put in when you've [won the title] two years in a row," said the coach. "Being 10-0 is a great by-product of winning the district."
Broad Run had plenty of motivation for its game against Park View this past Friday. The Spartans were eliminated by the Patriots in last year's Region II playoffs.
Broad Run grabbed early control of last week's game, jumping ahead 13-0 after one quarter and carrying a 25-7 lead into the half. The home team Patriots outscored the guests, 19-14, in the second half, but it was not enough as Broad Run clinched the district crown.
Broad Run running back TJ Peeler rushed for 129 yards and a touchdown on 13 carries to lead the Spartans. He opened the game's scoring with a 56-yard touchdown run. Breon Earl, meanwhile, ran for 51 yards and caught an 8-yard touchdown pass from quarterback Chris Jessop (5 of 13, 149 yards, two TDs). Jessop, a senior, also connected with Adrian Flemming (three catches for 132 yards, two TDs) on a 69-yard scoring strike in the first quarter. Jessop, along with his two scoring tosses, also ran for a touchdown.
Park View, following last year's trip to the Region II playoffs, struggled this season at 3-7.
<b>BRIAR WOODS</b> (8-2) is headed for the postseason for the second straight season. The Falcons will compete in the four-team Division 3 playoffs as the No. 3 seed. They will travel to No. 2 Monticello (9-1) of Charlottesville to take on the Mustangs this Friday night. Monticello is the defending region champion.
Last year, Briar Woods, in the school's third year of existence, qualified for the postseason for the first time. At the playoffs, the Falcons lost a high-scoring affair at Millbrook (Winchester). Many of this year's Briar Woods players experienced that playoff loss.
"The next step is to be able to win a playoff game or two," Briar Woods Coach Charlie Pierce said. "We've got quite a bit of the nucleus of last year's team that [experienced] a playoff game on the road."
Pierce said he would love for his Falcons to be playing a home playoff game this week. The Falcons were a perfect 5-0 in Brambleton this season.
But instead of playing at home, the Falcons are off to Charlottesville to take on the defending region champion Monticello team.
"It's going to be a real physical game," Pierce said. "They are real physical and big up front. They're athletic and can run and throw the ball."
Briar Woods easily handled Freedom High, 61-23, in both team's regular season closer last Friday night in South Riding.
Coach Pierce is proud of how far the Briar Woods program has come in its brief, four-year history, the past three seasons coming at the varsity level.
"I think we've advanced to the point where our expectations are high with the personnel we've had last year and this year," Pierce said.
<b>THE STONE BRIDGE</b> High football team won easily, 58-7, in a first round Northern Region Division 5 playoff game over visiting Jefferson last Friday night. The defending state AAA champion Bulldogs, with the win, improved to 11-0 on the season.
Stone Bridge will host No. 4 seed Mount Vernon in a region semifinals game this Friday night in Ashburn. The Majors (9-2) were 17-10 winners over Washington-Lee in another first-round playoff game last week. Mount Vernon is a member of the National District, the same district top seeded Edison is a part of.
The Bulldogs have not been seriously challenged all season long and that continued to be the case against Jefferson, the tournament's No. 7 seed. Stone Bridge standout running back Daniel Allen, in limited action, rushed for 73 yards and a touchdown on nine carries. Also, sophomore back Marcus Harris ran for 105 yards on nine carries with two touchdowns. And Ryan Lowdermilk scored on a 21-yard touchdown run.
Senior quarterback John Bladel, who has been filling in for injured signal caller Patrick Thompson in recent weeks, threw touchdown passes to senior receiver Michael Prince (39-yard scoring strike) and senior Zach Thompson (12 yards). For the game, Bladel completed eight of 17 passes for 188 yards.
Stone Bridge received special teams' touchdowns from senior Dare Ewetusa and junior Kevin Libuit.
If Stone Bridge can defeat Mount Vernon this week, there is a good chance the No. 2 seed Bulldogs will play Edison for the Division 5 region crown the following week. Edison, a 37-7 winner over Lee last week, will take on 7-4 Madison in a semifinals game this Friday night.