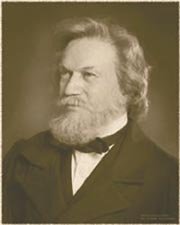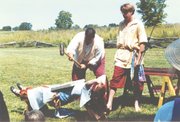 Step right up to learn about what the bumps on your head can tell you about your health. Be prepared to be astounded by feats of strength performed by Professor Chalmers Bodkin-Childs Amazing Patent Medicine Show. Prepare yourself for a strong dose of quackery as the Athenaeum presents the Old Town Medicine show, an old-fashioned Vaudeville-style collection of performances, lectures and storytelling that mimic the patent-medicine exhibitions that were popular in the 19th century.
"In the old days, they had to perform to sell their patent medicines," said Twig Murray, board member of the Athenaeum who organized the medicine show. "It's like the guy in the Wizard of Oz who was pretending to read the crystal ball when he was really looking in Dorothy's basket."
The medicine show was created by chance one day when artist Laurel Hausler approached the Athenaeum about displaying some of her paintings, which were inspired by patent medicine illustrations. Murray and Hausler began talking about how much they both enjoyed visiting the Stabler-Leadbeater Apothecary Museum, which features medical supplies dating back to the 1700s. One thing led to another, and before long the Athenaeum secured funding from the Burke and Herbert Bank and the Office of Historic Alexandria.
"These old time shows were a staple of 19th-century entertainment," said Lance Mallamo, director of the Office of Historic Alexandria. "This was a time when medicine was entirely unregulated, so these shows would hawk elixirs and tonics that were supposed to cure almost any ailment."
<b>THE ARTWORK THAT</b> inspired the Old Town Medicine Show are dark yet whimsical, inspired partly by the artist's time in New Orleans. Hausler said that when she began painting in oil, she had no idea how to manipulate the medium. She wound up with what she called "undelineated smears" of color across the canvas. Trying to create order out of the chaos in her artwork, Hausler began to read faces in the entrails of oil. She says her paintings are more planned now, although she continues to find faces in unexpected places.
"My paintings and sculpture define themselves until they encapsulate a frame of mind," she wrote in an artist's statement explaining her work. "By placing everyday emotions into these mysterious tableaux, I am more able to understand, control, and transform that in life which is frightening and unknown."
The show will be a funky mix of pseudo-science, folk history and theatrical performances. David Keltz, famous for his portrayal of Edgar Allen Poe, will become Dr. Orson Squire Fowler to explain how the bumps on your head can explain your personality and love interests. Known as phrenology, the "science" was used to determine intelligence, character and marital compatibility. Professor Chalmers Bodkin-Childs Amazing Patent Medicine Show will provide an over-the-top act based on the travelling performances that were once popular along the eastern seaboard. In addition to curing ills and improving dispositions, the "doctor" in the act will eat fire as members of his family perform feats of strength, escapology, juggling and more.
"The show will sort of be like a time capsule," said Murray. "The apothecary once owned the Athenaeum building, so we thought the show would have legs."