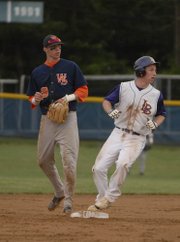 Despite winning 18-plus games for the past four straight seasons, a Patriot District banner had evaded Lake Braddock's baseball team. The Bruins captured a Northern Region title two years ago, but ever since 2004, they hadn't been crowned as district champs.
Not until now.
The Bruins went on the road and spurned West Springfield, 12-8, in a three-hour-plus marathon game on Tuesday evening. It was Lake Braddock's 15th consecutive victory, after starting the season 3-3 following a 6-2 road defeat to West Springfield on April 1.
But the Bruins buckled down, and reeled off win-after-win to mark the fifth consecutive year they've won 18-plus games.
"To do it to West Springfield on their field makes it that much more sweeter," said sophomore infielder Ryan Lindemuth, who finished with a game-high three runs. "It feels like a bunch of hard work is finally paying off. This is a great reward."
Lake Braddock earned 13 walks — 11 of the 12 runs reached base via walk — from four West Springfield pitchers, which allowed the Bruins to tally multiple runs in five of their six innings.
"We really grinded out at-bats," said sixth-year Lake Braddock head coach Jody Rutherford. "We got in situations where they were ahead and ended up battling our way back, drawing a walk or getting a base hit. We are able to put pressure on them with the base stealing."
<b>THE SPARTANS TOOK</b> a three-run lead in the top of the first off University of Virginia-bound pitcher Shane Halley, who made his only fourth appearance because of an early season forearm injury. The senior struggled in the opening frame, eventually shortening his season-high three-inning outing.
"It seemed like everybody had runners on base every inning," Rutherford said. "With the way we swung the bats on offense, we didn't feel like we were down giving up three. We just needed to do a better job throwing strikes."
The Bruins responded with two runs in the bottom of the first and four more in the second to take a 6-2 advantage.
West Springfield starting pitcher Bobby Wahl lasted just one inning, giving up three runs, while junior Tucker Tobin relinquished four in less than two innings. Without ace Mike Kent, who pitched a complete game to rally past two-time defending district champ South County, 4-3, in the semifinals, juniors Shannon Smith and Richie Mcmahon didn't fare much better.
"We took really good at-bats," Lindemuth said. "Anytime you get on base without any outs, it's going to produce runs."
Lake Braddock senior Shannon Mark went 2-for-3 with a team-high three RBI's, while catcher Steven Lindemuth batted in two runners. The Bruins were seven-of-14 with runners in scoring position.
"Lake Braddock has been the best team in our district all year so they deserved it," said West Springfield head coach John James.
<b>BOTH TEAMS WILL</b> host Northern Region games on Thursday, with Lake Braddock facing McLean and West Springfield set to take on Langley. Both games will start at 7 p.m.
For the Bruins, it will give them another opportunity to equal last season's win total.
"If we keep playing the way we are and the way we're capable of, we'll do fine," Halley said.
Meanwhile, West Springfield (13-4) will try to rebound from the loss, instead trying to foster the momentum from its third walk-off win of the season against South County.
"We'll get ready for Langley and go business as usual, just like we have all year," James said. "Baseball is a funny game sometimes."
On Tuesday, though, Lake Braddock reigned supreme, taking pictures with Patriot District banner after "finally getting over that hump," according to Halley. For the storied school, which was founded in 1973, it was the seventh district title.
"They just don't come around very often," Rutherford said. "It's big because you can win a lot of regular season games, but when you look back on it, you remember the championships."