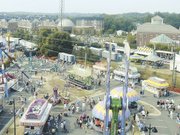 The 28th Annual Herndon Festival is expected to attract almost 100,000 visitors between Thursday, May 29 and Sunday, June 1.
Live music, activities for adults and children, food and drinks, fireworks and a carnival are all part of the event that celebrates the Herndon community.
Three stages will be scattered around downtown Herndon — the Café Stage, the Municipal Center Stage and the Depot Stage — featuring music of local, regional and national acclaim. Entertainment for all ages will be presented throughout the four-day festival. The band Fastball is scheduled to close out the festival on Sunday afternoon.
While visitors come for entertainment, arts and crafts and numerous other activities, one of the reasons they stay is the food offered at the festival. More than 40 vendors applied for about 22 spots available. Decision on who gets in is made based on prior festival participation and community feedback.
This year's festival will feature fish and chips, Greek, Cajun, barbecue and other specialties. The Council for the Arts of Herndon, the Herndon Optimist Club and the Rotary Club of Herndon will serve barbecue and beer at their food tents.
The 28th Annual Herndon Festival will also feature some new activities after gaining a major sponsorship from Volkswagen of America, one of Herndon's new commercial residents. For example, the car company will have a climbing wall set up for the visitors on Saturday and Sunday.
Another craft activity the car manufacturer is providing is production of miniature Volkswagen license plates with the company's name on the bottom, the Herndon Festival mark on the top and the personalized plate for the participating visitor.
Shuttle buses will carry the visitors from parking spaces at Worldgate Center and Herndon High School to downtown Herndon, encouraging visitors to keep away from downtown roads and not cause traffic congestion.