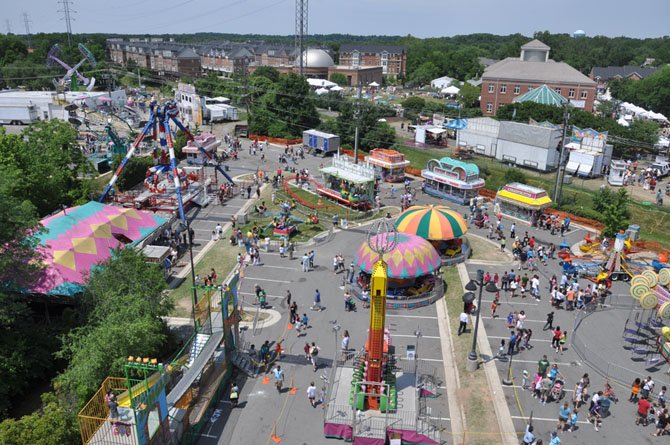 Herndon — Herndon will host its 32nd annual Herndon Festival May 31 to June 3, attracting more than 80,000 metropolitan Washington, D.C. residents to one of the area's largest admission free festivals.
The four-day festival will feature the usual array of live music, carnival rides and games, arts and crafts booths, fireworks displays (on Thursday and Saturday nights) and children's entertainment.
New this year is the Kid's Alley, which will feature hands-on art activities during the festival, and a variety of street performers.
"The whole area will be dedicated to children's entertainment, it's something different for this year, and there will be street performers walking around at all times" said Jacqui Mathews of the town's Parks and Recreation Department.
One of the performers will be The Monkey Man, who will be there Saturday and Sunday from 11:30 a.m. to 5 p.m. with his monkey Django. Django will interact with children, sit on their shoulders and pose for photos.


ANOTHER NEW ADDITION this year is the Americana Stage, which will be at the Herndon Municipal Center stage Sunday from noon to 3:30 p.m. Frying Pan Farm Park will be there with a petting zoo, there will also be a blacksmith, a quilter and an antique truck, which carries its own interesting story.
"The truck was restored by a vision-impaired man who will take the time to explain just how he re-built the truck," said Ann Marie Heiser, deputy director for the town's Parks and Recreation Department.
The HMC stage will also feature a variety of acts throughout the weekend, as well as the Depot Stage located at the corner of Station Street and Lynn Street and the Café Stage, which will feature singer songwriter-style entertainment Saturday and Sunday.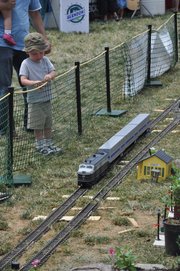 "The arts and crafts section has 105 spots, with everything from jewelry to soap makers and potters," Heiser said. "We'll also have some other community organizations such as the Women's Club, the Girl Scouts, Boy Scouts and others. We always make sure that this is a community-driven event."
Several recent additions to the Herndon business community will be making their presence known as well. Volkswagen, which recently moved to Herndon, will serve as the title sponsor, and the recently opened Flagship Carwash Center will serve as a Gold Sponsor and raffle off a year's worth of free car washes during the business expo.
Festival goers can keep track of everything going on with a mobile-friendly app that can be brought up on smartphones, which will include schedules, food, ATM and restroom locations, as well as various QR codes that can be scanned from around the festival.
There will be the standard event T-shirts, baseball caps and polo shirts for sale, and this year a women's tank top and hooded sweatshirt will also be available.


THE FESTIVAL will be open from 6 to 10 p.m. Thursday, May 31; 5 to 11 p.m. Friday, June 1; 10 a.m. to 11 p.m. Saturday, June 2; and 11 a.m. to 7 p.m. Sunday, June 3. A free shuttle will be available from Worldgate Center and Herndon High School.
Entertainment Headliners:
*Thursday, May 31 – Chopteeth Afrofunk Big Band; Sandbar; Melodime
*Friday, June 1 – 42 Coldplay Tribute; Flynn; Trio Caliente and Friends
*Saturday, June 2 – Brass Transit; Locksley
*Sunday, June 3 – Red Molly
More information, including a complete schedule of events, can be found at www.herndonfestival.net.