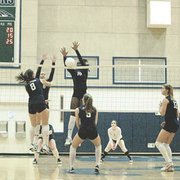 With an average output of a little more than six wins per season since the school opened in 2005, the South County volleyball team wasn't exactly re-writing the Patriot District record books.
South County had rattled off records of 2-14, 10-8 and 7-14 prior to the start of the 2008 season, scoring two district-tournament victories during that time.
Under fourth-year coach Dave Prahl, the Stallions were simply trying to develop some consistency and to stretch the game by recruiting younger, newer players.
Then this season, with the emergence of a pair of first team All-District performers, Prahl's team suddenly realized it was much closer to its eventual goal than it had realized.
Behind sophomore middle blocker Simone Antwi and junior outside hitter Lindsay Stephens, the Stallions went 16-3 this fall and topped West Springfield last week for their first-ever Patriot District crown.
"At the beginning of the season, coach said to us, 'This is our year to win districts,' and we were like, 'Uh, OK,'" said Stephens, who was named the Patriot District Player of the Year. "But from the first practice, everything just clicked."
Though the Stallions suffered a 3-2 setback to Herndon in the first round of this week's Northern Region tournament, South County will lose only two seniors from this year's squad and should be well positioned as a Patriot power for years to come.
"Ultimately, I thought next year's team would be the one that would take everything, just because I only had two seniors this year," said Prahl, who earned District Coach of the Year honors as well. "But we were able to get it together and come off with [a district title] this year."
<b>ONLY A YEAR AGO</b>, Antwi was cemented on the freshman team and Stephens was mired in an uncomfortable spot as a middle blocker. But as Antwi matured and learned the game of volleyball — she only started playing the sport as a freshman — Stephens was able to shift outside, a position where she's been much more comfortable.
The 6-foot Stephens said that last season she was just "getting in the way" up front, spinning around in circles and trying to get involved in the action. The move outside enabled Stephens to get behind the play and participate as she saw fit. The results have been spectacular. In 19 matches this season, Stephens has totaled 229 kills, an average of 12.1 per match, and hit an impressive .383.
Likewise, Antwi made a major adjustment by even coming out for the sport. As a devoted basketball player, Antwi didn't even want to be bothered with volleyball. However, prior to her freshman year, Antwi's mother insisted that she at least attend tryouts. Antwi ended up falling in love with the sport.
In Stephens' vacated spot, Antwi has also accumulated 229 kills, hit at a .442 clip and posted 27 solo blocks. In the district final against West Springfield, Antwi led South County with 14 kills.
"If she has a great set, she's not going to get blocked," Prahl said.
The sets have been there, as evidenced by the 600 assists (31.6 per match) posted by one of the team's two seniors, setter Melissa Guy, who was picked as a second team All-District performer. In addition to Guy, South County will also lose defensive specialist Shannon Collins, who was third on the team this season with 100 digs.
The Stallions will also be helped along by the return of junior libero Erica Fairbanks, who led South County with 231 digs and a serve percentage of 94 (39 aces).
"Hopefully, next year, we win regionals and win districts again," Antwi said. "We just need to stay focused and keep our determination and mindset to do it again."