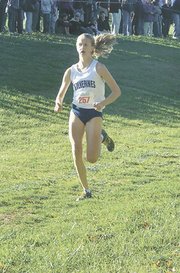 The <b>West Potomac</b> girl's cross country team participated in the Northern region cross country championships at Burke Lake Park last Thursday, finishing with a solid fifth-place showing.
Leading the way for the Wolverines once again was freshman Julianne Bigler, who finished with a time of 18:17 — the exact same time she got in the Patriot District championships two weeks ago.
The time was good enough to for 12th-place individually in the field of almost 120 runners. By virtue of her top-15 finish, Bigler now moves onto the AAA state cross country meet, which will take place Saturday morning at Great Meadow in The Plains.
Right behind Bigler was junior Kelsey Rosenberg, who came in 17th-place individually, just missing out on qualifying for the state meet. Freshman Sarah Jane Underwood also turned in a top-30 finish with a time of 18:53.
The West Potomac boy's team finished in 11th-place overall. Junior Peter Stebbins was the first male Wolverine to cross the finish line with a time of 16:17. Freshman Brady Corum wasn't far behind with a time of 16:31.