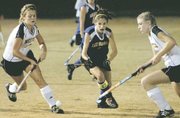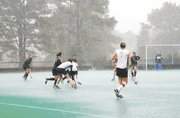 Tears, Lake Braddock field hockey coach Diane Miller knew, were inevitable. In the final moments of her team's 1-0 loss to Princess Anne in the Virginia AAA state semifinals last Friday, Miller, a 28-year veteran, prepared for the worst.
As time expired, players shook hands and began to use each other's shoulders as pillows and tissues. Miller made her rounds, consoling each player and assuring them that they did their best.
Miller has never won a state title. She has 412 career wins and this was her best chance to erase an obvious void on her résumé. And as she went from player to player, she heard a refrain that cut straight to her heart.
"Many of those seniors, when I walked up to them, they said, 'I'm sorry I didn't win a state championship for you,'" Miller said. "That just broke my heart."
The strangest part, Miller's players became more enamored with winning a state title than she did. With 20 district titles and seven region trophies, Miller doesn't shy away from the fact that she'd love for her Bruins to become only the fourth Northern Region team to win a state crown since 1977.
But she never wanted it to become a burden on her players, and the most important thing to Miller is that her players have fun and try as hard as they can.
"I told them, as long you left everything on the field, there's nothing else you can do," said Miller, whose team won the Northern Region title with a 2-0 win over Westfield on Nov. 5. "'You played your hearts out and [a state title] doesn't matter to me.'
"But when you have a group that works this hard, you want to see them get everything they can get. I think after time passes, they'll see that it really was a good experience."
<b>LAKE BRADDOCK</b> opened the state tournament with a 3-2 win over Maggie Walker on Thursday, Nov. 13, scoring three times before a torrential downpour forced a 30-minute rain delay. Senior Laura Brodner notched her sixth and seventh postseason goals while classmate AnnMarie Gambescia, who scored the game-winning goal during the region title game, scored once.
But as a steady rain turned even worse, the turf field at the USA Field Hockey National Training Center in Virginia Beach began to retain water, which is never a good sign for an offensive-minded field hockey team.
"I have never played in such poor conditions," senior Annie Stephens said. "It was like a hurricane, I swear. The ball was barely moving. You could hit the crap out of it and it would go 2 feet."
Lake Braddock will graduate 12 seniors from this year's 22-2 team, including the Patriot District and co-Northern Region Player of the Year in Stephens (12 goals, 11 assists).
The Bruins will part ways with Brodner (eight goals, 10 assists), Gambescia (12 goals, seven assists) and fellow senior Katie Klatt (seven goals, eight assists), while senior goalkeeper Eileen O'Connor (12 shutouts) will also be lost.
But with one of several key returners in sophomore scoring leader Brittany Hopkins (15 goals, six assists), Lake Braddock's district and region dominance shouldn't disappear any time soon.
"Losing 12 seniors is not going to be easy, but I think they'll adapt pretty well," Gambescia said. "I really think that [Miller's] a great coach and she can do anything.
Still, for anyone who hasn't been around Lake Braddock's field hockey program over the past few years, that's not exactly breaking news.
"I'm trying to talk my assistant [Amy Haak] into taking over the job, but so far she's not buying it," Miller joked. "It's a great group of kids, and I'll tell you, I'm sure going to miss those seniors."