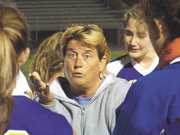 When it happened, of course, Lake Braddock coach Diane Miller tried to downplay its significance. After all, plenty of coaches have 400 career wins. The only difference would be that those coaches have been managing 162 games of professional baseball every summer. They haven't been coaching high school field hockey.
With a 3-1 win over Eastern View last Saturday, which ensured the Bruins' 10th Herndon Tournament trophy since the event was started 12 years ago, Miller, in her 28th season as Lake Braddock's head coach, notched her 400th career victory.
"When you're in one place long enough, I guess it's not that hard," Miller deadpanned.
Miller started her career as a junior varsity coach at Lake Braddock in 1980, and a year later, she secured the varsity job. Through 18 district titles and six regional crowns, Miller has patrolled the Lake Braddock sidelines — substituting, teaching and encouraging.
Even with the success, the James Madison University and Edison High School graduate has thought numerous times about retiring but always returns to one consistent thought.
All right, maybe three of them.
"You can't reach something like that without great kids, great parents and a very supportive administration," Miller said. "I can't seriously take credit for this because if I didn't have these kids, these parents, principals and all the administrators, I wouldn't even have stayed."
And Miller's team is glad she did. Though she's a firm believer in conditioning and isn't afraid to penalize a poor performance with a lap, sprint or both, Miller's players love coming to practice. She makes field hockey fun.
"She really makes you want to do your best," said senior Katie Klatt, who earned second team All-State honors last season. "She'll be laid back when she needs to, but she disciplines us and makes us run a lot if we mess up. We can't really goof off or anything, but you don't dread practice."
Miller, more commonly known as simply "O," received the Virginia High School League's Regional Award of Merit in 2004, and her teams have reached the state final five times (1991, 1995, 1997, 1998 and 2002). However, and here lies the one hole in Miller's resume, she's yet to win a state title.
<b>IT'S NOT SOMETHING</b> that bothers the veteran coach; rather, it's something that her players would like to win for her, a Jerome Bettis- or John Elway-type send off.
"Anything to get 'O' that title," said senior Annie Stephens, "we'd do … in a heartbeat."
After the team's most recent win, a 3-0 victory at Hayfield on Tuesday night, Miller's Bruins have won all 13 games that they've played and are 3-0 in the Patriot District. The Bruins have beaten area stalwarts Oakton, Robinson, Chantilly, Langley, Woodson and West Springfield, but still, the optimism is tempered.
"I've had seasons where we've been undefeated going into regionals and we lost in regionals, so I'm not really looking that far ahead," said Miller, whose team will travel to West Potomac on Thursday night. "In field hockey, you can dominate the whole game and one bad ball, and you lose."
According to Stephens, Miller has had three ultra-close groups of girls and this year's crop of seniors is most certainly one of them. Miller has 12 seniors on this year's roster, five of whom played on the varsity squad as sophomores.
That year, Stephens said that the team made a point of breaking every huddle and screaming, "States." Whether it was a jinx would never be known, it is something that has been avoided this season.
Miller talks about "taking it one game at a time," and she knows how to keep a team focused, though she did allow herself to flirt with the possibility of that elusive state crown.
"I really want that for them," Miller said. "The kids are playing hard, and they work hard every day at practice. I just hope they can keep going, and I'll just be along for the ride. I can just stand here and say, 'You go in here, you go in there.' But they're doing all the work."