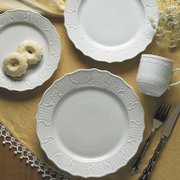 In addition to being Commanding General of the Revolutionary Army and the first President of the United States, George Washington was an accomplished host at his Mount Vernon Plantation. For his multitude of guests he required an array of fine china.
Beginning in the spring of 1757 he ordered "white stone" tableware from England, also known as English white stoneware. His first order arrived in December of that year. It consisted of six dozen dinner plates and an array of complimenting pieces.
In the American colonies during the mid 1700's, the relatively inexpensive yet fashionable white-fired English stoneware was the most widely used table setting. It could be molded into a variety of specialized forms, which suited the needs of the bachelor Washington quite well.
One of his favorite patterns was known appropriately, in line with his entrepreneurial talents, as "Prosperity." The pattern was a glossy hard porcelain. It was both elegant and practical.
THIS PAST FRIDAY, the reproduction of that stoneware was introduced at The Shops at Mount Vernon by Wendy Kvalheim, the president of Mottahedeh China, and Carol Borchert Cadou, Mount Vernon's director of collections. They also signed copies of the respective books "From Drawing Board to Dinner Table" and "The George Washington Collection: Fine and Decorative Art at Mount Vernon" as well as pieces of Mottahedeh china purchased at The Shops.
Kvalheim acquired the 85-year-old fine china company located in Cranberry, N.J., near Princeton, in 1992 from its founders Mildred and Rafi Mottahedeh. "We specialize in antique reproductions of porcelain, brass, silver and crystal and hold a variety of museum licenses," Kvalheim said.
Right now only four pieces of the Prosperity pattern are available — a service plate, an oval platter, and two serving bowls — according to Kvalheim. However, there is a wide array of Mottahedeh china in The Shops in different patterns featuring everything from vases and figurines to full table settings.
"I design our various products and my daughter Dana serves as the product coordinator. A given reproduction might consist of one plate or a variety of adaptations," she said.
Her book "From Drawing Board to Dinner Table" explains in detail some of the various reproductions produced by her company and the process of successfully achieving an authentic reproduction. The Mount Vernon Prosperity pattern is a glossy hard porcelain reproduction of the Staffordshire English Salt glaze ware.
It is stain proof, dishwasher safe and microwaveable. The unusual contrasting matte finished rim, although unglazed, is non-porous. The pattern was discovered during an archeological dig at the Estate, according to Cardou, who gave a detailed account on the subject during a lecture preceding the signing event.
"A well-set table was the mark of a gentleman in colonial America," Cardou told her audience. "This also applied to tea service. Serving Chinese tea was a note of status."
CARDOU'S BOOK, "The George Washington Collection," was an outgrowth of her work on the new museum. "It is a chronology of Washington's life. It goes from his bachelor years at Mount Vernon to his marriage to Martha, to the Revolutionary War, and his two retirements as told through various objects on the Estate," Cardou said.
"One of the constant themes throughout the book is porcelain. It defined for those new Americans their standing and their wealth," she said.
Visitors to The Shops at Mount Vernon are able to purchase an array of Mottahedeh china from entire place settings to individual decorative pieces. Copies of both books are also available in the book section of The Shops.