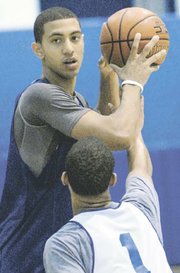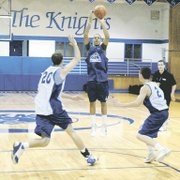 Unlike most star athletes, Kendall Marshall hasn't gotten used to limelight. It's more like the spotlight has gotten used to him.
The Bishop O'Connell junior, who will begin his third season as starting point guard for the Knights next month, has already had to navigate through a publicity storm that no teenager can identify with.
As a middle-schooler at Evangel Christian School in Dale City, Va. in 2003, a popular recruiting Web site dubbed Marshall "the most hyped young player ever." Around that same time, youth hoops guru Clark Francis, who famously touted future NBA player Sebastian Telfair as the best fifth-grader in the country, told the Dallas Morning News that, "More people know about Kendall Marshall than anyone in the history of sixth-grade basketball."
As a result, two years later O'Connell was one of many private schools that made a run at securing the enrollment of what they considered a sure-fire basketball prospect.
That's when the colleges caught on, according to Marshall's father, Dennis, who said the first letters from universities started arriving when his son was an eighth-grader.
If that weren't enough, Marshall was able to top all the hype when, as a sophomore last year, he announced his intentions to attend North Carolina on a basketball scholarship, becoming the youngest player coach Roy Williams had ever offered a free ride to.
<b>ALL THESE YEARS</b> in the spotlight, and it's a shock the pressure hasn't gotten the best of him yet.
"You have to put everything in perspective and realize there are a thousand other kids out there that do the same thing you're doing," said Marshall after practice last week. "Some of them are getting the same attention, maybe a little less, but you still have to keep striving to get better every day."
Marshall, who lives in Woodbridge, has shown the ability to do just that, assuming the starting point guard role for O'Connell the moment he stepped on campus two years ago and elevating his game to the point that he was named second-team All-WCAC as a sophomore last season.
His clever ball handling skills, smooth playing style, and poise have drawn raves from college and pro scouts alike, who say Marshall's game has an old-school feel to it.
With the 2008-09 basketball season around the corner, it's no wonder Marshall's name is on the short list of best players in the metropolitan area — let alone Arlington — no small feat considering the plethora of talented basketball players around Washington, D.C.
All the adulation has fed into some unreasonable presumptions over the years, something both Marshall and his father have grown accustomed to.
"People expect a big game every game and that's just not gonna happen," said Dennis Marshall. "So it was tough sometimes, there are a lot of expectations going to Carolina."
Added Kendall: "When we go into opposing gyms, they're looking for me to be great, but I'm not a conventional scorer all the time. So some people are like 'Well this kid isn't that good.' I just have to know what I can do and be good at that."
<b>IT SEEMS</b> after so many years dealing with pressure forced upon him, Marshall is comfortable with all the hype now. He's even writing a blog detailing this season for a North Carolina fan Web site.
According to his coach, though, the only reason Marshall appears to be at ease with all the attention is because of the hard work he puts in behind the scenes. In between games for his Boo Williams AAU team this off-season, Marshall took more than 40,000 jump shots in an effort to add shooting off the dribble to his already formidable repertoire.
"He's improved every year he's been here," said O'Connell coach Joe Wootton.
This season presents a new challenge for the 6-foot-3 (and growing) guard. O'Connell's top scorer from a year ago, Jason Clark, graduated and is playing for Georgetown after leading the Knights to a 29-8 record and a spot in the WCAC championship game.
So the onus is on Marshall to add more to his plate and lead the Knights on the stat sheet and in the locker room.