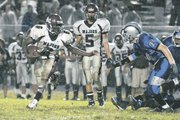 No coach wants the task of explaining away a blowout loss to end the season. But as Mount Vernon coach Tom Glynn talked to his team about the 42-0 loss it had just suffered at the hands of undefeated defending state champion Stone Bridge last Friday night, his message was simple.
"This is who you're going to line up against next year," he told his team after it lost the Div. 5 Northern region semifinal game.
What Glynn meant is that no matter how lopsided the defeat may have been, the juggernaut that is Stone Bridge isn't going anywhere fast. Mount Vernon now has a measuring stick for future success after making the playoffs for the second-consecutive season.
<b>"THEY SAW</b> what the playoffs are like," senior running back Kyle Ricks said as he walked off the field for the last time in his high school career. "(Stone Bridge) looks like they got us in the weight room, so now our underclassmen have to get in the weight room and get ready for next year."
The Majors kept things close in the early going against a team that hasn't lost a game since last September. Mount Vernon's defense was particularly stout, forcing an early fumble by Stone Bridge's Division-I bound running back, senior Daniel Allen, which was recovered by senior defensive back Biazek Hill.
Stone Bridge didn't score its first touchdown until less than 10 seconds remained in the first quarter, a notable achievement considering the Bulldogs have beaten opponents by an average score of 50-7 this season.
From there, though, it was all down hill for Mount Vernon (9-3 overall, 5-1 National District). The Majors couldn't sustain any sort of offensive rhythm, picking up just one first down the entire game. Stone Bridge's front seven, which features six players that will be suiting up for ACC teams next fall, held Mount Vernon's powerful running game in check.
Ricks finished with just 22 yards, while quarterback and big play threat Brian Green was held to just one yard per carry. It was a frustrating night for Mount Vernon, who entered the game on a seven-game winning streak, but could muster just 71 total yards.
"In the beginning, we played a real good game," said Glynn. "The problem was we couldn't get anything moving on offense."
<b>THE LOSS WAS BITTERSWEET</b> for the team's 22 seniors, who have watched as the program rebuild from a 1-8 season their freshman year to a No. 3 seed semi-finalist in the northern region playoffs.
Part of the problem for the Majors on this night was the lack of some of those seniors. The Majors' starting running back, senior Brandon O'Clisham, was out with a concussion, while both of Mount Vernon's starting offensive tackles were also forced to miss the game with injuries.
That did nothing to dampen the mood of Glynn, who fully understands just how much of an impact this group has had on changing the culture around campus.
"People can say what they want," Glynn said of the season-ending blowout. "We still finished the season 8-2, not a lot of people can say that."