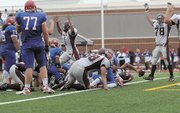 To determine just how physical Mount Vernon's Kyle Ricks is on the football field, one need not look further than his equipment as he walks to the bus following a game.
For instance, after last Friday's 22-20 victory over Yorktown, Ricks walked away with a torn up jersey on his back, a nearly peeled off logo on his helmet from being scratched away so badly, and some nice bruises to prove he doesn't play a child's game.
The win over the Patriots was Mount Vernon's fifth-straight, clinching a home playoff game in two weeks, and the smash mouth style of Ricks has played a sometimes unenviable, yet major role. That of team battering ram.
"I love hitting," said Rick, who plays both fullback and linebacker. "When people talk to me about football, I tell them I just like to hit."
His statistics last Friday have become all too familiar for opponents this season. Ricks racked up 73 yards rushing and a touchdown on offense. On defense, he led the team in total tackles with eight, including two for loss.
Ricks, who is listed at 6-foot-4, 242 pounds, is oftentimes the biggest skill player on the field and draws the attention of all coaches and players no matter what he's doing — but especially when he's delivering crushing blows to an overmatched opponent.
His primary role on offense is picking up first downs during third-and-short situations and as a powerful change of pace to running back Brandon O'Clisham and mobile quarterback Brian Green.
He has become so successful at picking up between the tackle yards that it comes as a shock to coach Tom Glynn the few times Ricks can't grind out first downs.
"I was sort surprised he didn't get that last first down for me," Glynn said after Ricks and the Mount Vernon offense failed to pick up a late first down that would have iced the game against Yorktown. "That's his job, but overall he did a great job tonight."
Ricks has been particularly effective in goal line situations this season, since teams are unable to stop Ricks before he picks up at least a few yards. Through nine games, he has seven touchdowns.
Those scores have certainly come in handy for the 7-2 Majors, who have three wins by three points or less thus far.
Perhaps the biggest reason Ricks has wreaked havoc on the rest of the Northern Region this year is simply the way Mount Vernon plays. On offense, Glynn rarely strays from the run, preferring to cram the ball down an opponent's throat. Against Yorktown, the Majors attempted just one pass.
"If we figure we can control the clock and run it, then we'll do that," said Glynn.
And it's that powerful running game that has the Majors coasting into the playoffs as one of the hottest teams in the area.
"The defense has stepped up and our offense is really starting to come together," said Ricks. "We are running the ball a lot better than we were at the beginning of the season, so I think our offense is definitely improving every game."
It sure sounds like there will be more tattered uniforms to come.