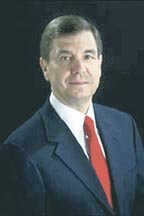 Milton Matthews was appointed by Gov. Tim Kaine to serve on the Virginia Common Interest Community Board on Aug. 28. Matthews has been Reston Association's CEO since the fall of 2004 and has an extensive background in city management, administration, operations and finance for communities ranging in size from 23,000 to over 1 million.
Erin Neff of Reston was deployed Nov. 3 to begin work on her first service project of the year with the National Civilian Community Corps (NCCC), an AmeriCorps program. Neff arrived at NCCC's Southwest Region Campus in Denver and began training on Oct. 6 for 10 months of full-time service with AmeriCorps NCCC.
As a Corps Member, Neff will be responsible for completing a series of six- to eight-week-long service projects as part of a 10- to 12-person team. Her first service project will end Dec. 19 and begin a new project in a new location Jan. 5.
Karen Kelleher of Reston was selected to play Mrs. Gibbs for the University of Mary Washington production of Thornton Wilder's "Our Town." Kelleher is the daughter of Ken and Sheri Kelleher of Reston and is a 2007 graduate of Paul VI Catholic School. Kelleher, a sophomore, is majoring in theatre.
Dick Kovar of Reston will participate in the Washington Revels' 2008 Christmas Revels performance. Christmas Revels will offer eight performances over two weekends, Dec. 6-7 and Dec. 12-14 at GW's Lisner Auditorium, 21st & H Streets N.W., Washington, D.C. Tickets: $12 - $45. Visit www.revelsdc.org or call 1-800-595-4849.
Kristen Mancini of Reston was named as a recipient of the Freedom Alliance Scholarship for children of U.S. service members who have been killed or permanently disabled in an operational mission or training accident. Kristen, a senior at American University, is pursuing a degree in psychology. Kristen is a recipient of the Freedom Alliance Scholarship for the fourth straight year.
More like this story