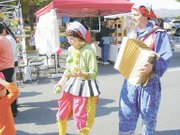 The City of Fairfax is conducting its 32nd annual Fall Festival on Saturday, Oct. 11, from 10 a.m. to 5 p.m. What started out as a small market for artisans to display their wares has grown to a festival with more than 400 arts, crafts, information, food and gourmet food vendors, children's activities and musical entertainment.
The Classic Car Show along with the New Car Show will once again be provided by the Fairfax City Auto Dealers Association and Bubba's Custom Cars & Rods at the north end of the festival on University Drive. Children's entertainment will include the Great Zucchini and Rocknocerus, activities and rides will be located in front of City Hall. New this year are additional children's rides, located at the north end of the festival on University Drive near Old Town Village.
The third-annual Fairfax Superstar is a singing competition for ages 3-18 years. A business expo area will also be a part of the festival.
Musical entertainment will include the Legwarmers — the ultimate '80s tribute band — performing from 12:30-3:30 p.m. Free admission to the festival. A fee is charged for rides.
Pets are discouraged to attend. To request accommodations; call 703-385-7949 one week prior to event.