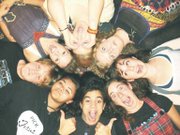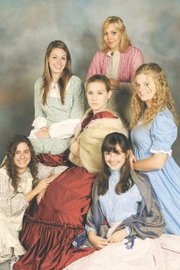 Drama season is here and local high schools are rehearsing for their fall productions. Dominion High School will be staging Louisa May Alcott's classic, "Little Women" as its fall production. Show times are Thursday, Oct. 23 through Saturday, Oct. 25, at 7:30 p.m., with a Sunday, Oct. 26 matinee at 3 p.m. Cost is $7.
DRAMA INSTRUCTOR Amy Young, formerly of the Capitol Steps, is directing the cast of 14 in a play about a Civil War family. "I wanted to use a classic story appropriate for all ages to convey the strength of family ties through tragedies and joys," Young said. The play is a period piece that enables the actors to use "stylized acting" while emphasizing characteristics that we associate with contemporary women and families.
She said, "That's the nutshell. Family gets you through tough times. You share your tears and laughter."
The challenge in directing her first Dominion production is that one person has to coordinate the many aspects that go into it — both technical and presentational — publicity, design, building sets, costumes and lighting.
What's rewarding about the job, she said is the students — "Their hearts are in it so they commit their time, talent and efforts and that's what's most rewarding as I watch them grow."
Fiona Ritchey, 18, of Lowes Island, plays the lead role of Jo March, an aspiring writer who pens a book and narrates the play between scenes. Her character is outspoken and boyish, she said. "She's very similar to myself. So sometimes it's hard to separate Fiona from Jo." A senior, this is Ritchey's 10th play.
Lauren Maxwell, 17, of Lowes Island, plays Amy March, the youngest sister who evolves from age 12 into a married woman. "At the beginning I'm selfish; I have a hard time grasping reality," she said. "As the play goes on, I become a lot more caring for my family towards the end of the production. I kind of learn how to love them and myself." This is her 10th play as well.
She adds, "I think just learning who I was as a person helps so much in helping me understand why I'm saying the things I'm saying."
ACTING IN HER first play, Julia Germain, 16, a junior from Lowes Island, plays Meg March, the oldest sister ("The romantic one … she's ready for love.") Julia enjoys the chemistry she has with the other sisters. "That makes it the best," she said, calling her character the one who takes care of everybody.
Rachel Weber, 15, a sophomore from Lowes Island, read the book first to get a "palette" to paint her character and prepare for the role. She plays Beth March who ends up dying. Her character is an introvert and shy — traits that she doesn't share in real life. "Also, half of the play I'm sick, so I have to channel how it feels to be sick."
Lyla Byers, 16, of Lowes Island, plays the wealthy and sophisticated Aunt Marge, who has a "rough connection" with Jo. She said it helped when the director assigned them to write autobiographies to explore their characters. She loves Jo, but their personalities clash. "We're both extremely stubborn; we yell over each other all the time." She said the challenge in playing mean is that she has to be "edgy."
NAZIM BENARBANE, 16, a junior from Sugarland, plays John Brook, who falls in love with Meg. He describes his character as passionate and very complex. "He's a man of a few words … who's very duty-oriented," Benarbane said. "He's very interested in the customs of the time."
James Russell, 15, of Lowes Island, wears a beard and plays the role of the father, Mr. March, who gets shot and wounded in the war. "He loves his daughters very much," Russell said. "He definitely wishes that he'll be able to see them grow up even though he's gone."
He said it's more of a challenge acting in a smaller cast as opposed to a large musical with lots of extras because he gets to explore the character more.
<i>For information on other high-school productions, <a href= http://www.connectionnewspapers.com/article.asp?article=320566&paper=67&cat=226>click here</a>.</I>