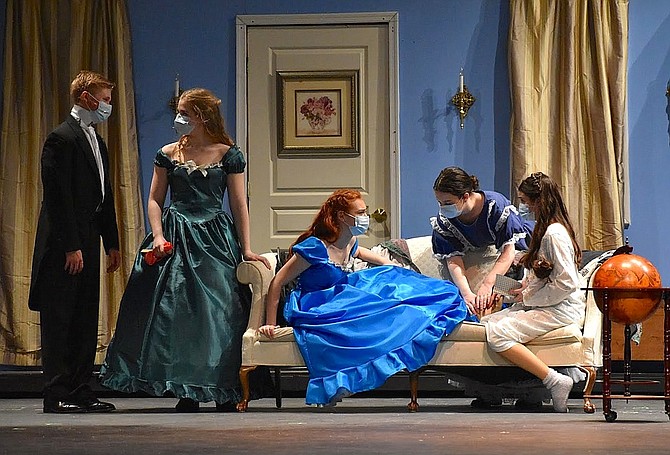 Based on Louisa May Alcott's life, "Little Women" describes the lives of the author and her sisters, growing up during Civil War America. And Fairfax High is bringing it to the stage with its production of "Little Women, the Musical."
It'll be streamed this Thursday-Friday, May 20-21, at 7 p.m., and Saturday, May 22, at 2 and 7 p.m. Get tickets via https://www.fxplayers.org/.
"It's a coming-of-age story about Jo March and her family," said Director Chris Whitney. "Wherever she goes and whatever she does, her best work is her memories of her family. The story is about hope. As they get older, the March sisters – Jo, Meg, Beth and Amy – aren't able to be together, but they hope to eventually be able to reconnect – and that's what we're all going through, too."
The cast and crew of 30 has rehearsed since March, and a professional videographer photographed the actors from all angles. "My cast has been really resilient, adapting to change," said Whitney. "This is my first year here, and I was absolutely amazed at the talent and dedication they have for theater. This is a great musical for the students because there are a lot of seniors in this production and they'll be moving on into the world, just as their characters are doing."
PORTRAYING JO is senior Tori Miller. "She's the black sheep of the family and wants to go against society's standards," explained Miller. "She's a tomboy and doesn't want to get married – which was expected of women then. Instead, she's adventurous and passionate and wants to make her own money, travel and write books. But she loves her family most of all and would do anything for them."
Miller likes playing Jo because "She's inspirational and a strong woman and role model. She has an amazing progression and journey to maturing and learns how to become her own person. I love her passion and love for her family, and she can be very dramatic."
Miller also loves singing Jo's song, "The Fire Within Me," saying, "It's beautiful and I really connected with it. In it, she goes from being heartbroken to accepting, as she moves on from a really hard part of her life."
She said audiences will enjoy the "lovable characters, great energy, and both sad and comedic moments. It's a timeless story that teaches lessons about life, growing up and learning to become your authentic self."
Senior John Jennings plays Laurie, who's initially in love with Jo, who rejects him. "In the beginning, he's 16, happy-go-lucky, positive and energetic and dreams about his future," said Jennings. "Later on, he's older, more mature and grounded and has a real-world view of how life works. He's fun to play because it's nice to channel happiness and joy in such a sad time. And when the show is serious, he can be a hopeful beacon of light."
Jennings sings the song, "Take a Chance on Me," after a ball. "Laurie's asking Jo to take a chance on him in life and marry him," said Jennings. "I run around, jump on couches and even have a pretend boxing match with Jo."
As for the show, he said, "Audiences will come away with a sense of family and love. And that's really important when we've all been separated from our friends and family – and now, everyone's coming together."
Portraying Professor Bhaer, who gives German lessons to the sisters, is senior William Choi. "He's logical and uptight," said Choi. "But toward the end, he lets go of that persona and becomes more vulnerable to Jo, whom he loves. He's a nice guy, and smart, but sometimes oblivious to social clues."
Choi enjoys this role because of his character's arc, "going from serious and simply a teacher to tearing down the walls and becoming more of himself and more sociable around Jo, his polar opposite. Jo sends him a letter asking how he is, and that surprises him."
And in the song, "How I Am," said Choi, "Bhaer's talking to himself and slowly recognizes that his normal life was boring. It became more exciting when Jo came into it and showed him different points of view he never saw. And that's when he realizes he actually might be in love with her."
Choi said audiences will like the show's songs and the different range of emotions they produce – from excited to melancholy, adventurous, angry, happy and joyful. Said Choi: "This show is a rollercoaster of emotions and is never boring."
Senior Ruth McCoy Miles plays Meg, the oldest and most romantic of the four sisters. "She appreciates fine dresses and high society and is girly and feminine," said Miles. "She's kind and soft and plays mother when their mom isn't there. And she dreams of becoming an actress."
"I love this role because I identify the most with her personality," continued Miles. "And I like being close with the other sisters and sharing the special, bonding moments with them. It's just a classic, family story. Before the ball, her sisters reassure her that things will go fine, and it's nice being supported that way."
MILES'S FAVORITE SONG is "Five Forever," in which the sisters and Laurie vow to stay together forever. "It's a big celebration of their friendship and a really fun number," she said.
"Although the story takes place during the Civil War, its themes of friendship, love and growing up with strong family and friends are still relevant now," said Miles. "Each sister has different values, styles and aspirations, but they always support each other and get along beautifully. And in general, it's still important for people to be supportive, respectful and accepting of one another."