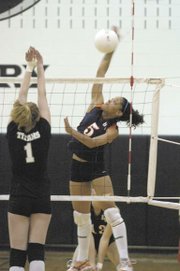 However the current season turns out for the Briar Woods High girls' volleyball team, the Falcons will always have their recent breakthrough win over Dulles District opponent Broad Run to recollect. Briar Woods, which held a strong 9-4 record going into this week, defeated the rival Spartans in five games in the home match played Sept. 25.
In recent years, Broad Run has been one of the top teams in the district, while Briar Woods was not at that elite status. So the win over the Spartans was one to treasure for the Falcons.
"They kind of killed us last year and were like a college team [in caliber of play]," Briar Woods Coach Rich Bennett said. "[In the recent win] we managed to play our game and the win was kind of a thrill."
Broad Run captured the first and third games of the match, while Briar Woods won the second and fourth games. That set up a final fifth game to determine the match winner. There, the Falcons prevailed, 15-12, overcoming an 11-9 deficit on way to the final game victory.
"You've never seen them so excited before," Bennett said of his team's spontaneous reaction to the triumph over its Ashburn rivals.
The win over Broad Run came two days after Briar Woods had lost a road match at district foe Potomac Falls.
Earlier in the season, Briar Woods had nearly pulled off an upset at district opponent Heritage. The Falcons lost that match in five games to a solid Heritage team that was playing in front of its enthusiastic home crowd. Even in defeat, Bennett said that match was particularly memorable because it indicated that the Falcons could hold their own against a good, district opponent.
"Heritage had all these fans there," Bennett said of the meeting with the Pride. "That was an exciting atmosphere to play in."
<b>IN ACTION</b> last week, Briar Woods won both of its matches on the road, defeating non-district opponent Brentsville District (Nokesville) on Wednesday and then handling district opponent Dominion the following night. The victory over the Titans was the third in a row for the Falcons, who improved to 5-4 in district play.
Loudoun County is the best team, once again, in the district this season. Potomac Falls is, at this point, the second best squad. Then there is a group of teams, including Broad Run, Heritage and the Falcons, who are also contenders this season.
Briar Woods has two top-notch hitters in junior Kim Bell and senior Krysta Gardner.
Of the 5 foot 7 inch Gardner, Bennett said, "She can jump real quick and high. She is coming into her own as a hitter, server and defensive player. She is our only girl who plays on both the front and back row. She leads our team in digs and aces."
Gardner, in the win over Dominion, had 15 kills, six service aces and nine digs. Bell, meanwhile, had 11 kills. For the season, Bell leads the team in kills with 117, while Gardner is second with 112.
A strong season is also coming from senior Bailey Jensen, a middle hitter/blocker. She had nine kills in the Brentsville match and eight blocks combined in the Brentsville and Dominion matches. For the season, she has 21 blocks.
And junior setter Caitlin Ronan has given her team exceptional play throughout the fall season.
"She's done a great job," Bennett said.
A year ago, Briar Woods went 8-13 overall and 5-9 in district play. This year's team has shown outstanding improvement.
"We're playing well as a team and have improved in passing and spiking, and are making less errors this year," said Bennett, whose team will compete in the district tournament in a few weeks. "Our team has grown and matured, but we're basically still young."
Briar Woods was scheduled to play at district opponent Freedom High Tuesday of this week. Next Tuesday, Oct. 14, the Falcons will be home against Heritage. Districts are slated to begin Oct. 28.