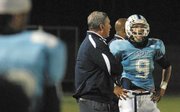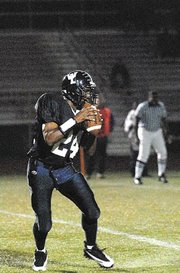 It has been quite some time since the title of best high school football team in Arlington has legitimately been up for grabs.
It's hard to get around that the Yorktown Patriots have made 13 playoff appearances — including two Northern Region championships — during coach Bruce Hanson's 24-year tenure at the school while winning 41 games over the past five-plus seasons.
Add on the fact that the Patriots' two Arlington public school rivals, the Washington-Lee Generals and Wakefield Warriors, have traditionally been Northern Region doormats and it should come as no surprise that Yorktown has lost just once — a 1995 defeat to Wakefield — against its fellow Arlington schools.
"It's hard to call Yorktown a rivalry game," joked Washington-Lee coach Josh Shapiro before the season when talking about his squad's 23-game losing streak to the Patriots. "We've got to actually beat them for that to happen."
That doesn't mean the matchups haven't been fulfilling, though. For Hanson, the games take on special meaning since he was the coach at Wakefield before coming to Yorktown. He said the rivalry between the three schools stays alive thanks to the fact that the players are always so familiar with each other, having grown up playing against each other in Arlington youth leagues.
Yorktown and Washington-Lee also share a career center, meaning some players could take classes together.
"Arlington is a close community." Hanson said. "Our kids interact more than other areas."
But with all three schools exceeding expectations thus far this season, there is legitimate reason to believe the Arlington rivalry may have some more competitive interaction on the field.
Commencing with Friday's game between Washington-Lee and Wakefield — a homecoming affair for the Generals — Arlington's public high schools begin a four-week stretch where all three will play one another.
Yorktown is off to its usual start, hovering near the top of the National District with a 4-2 record — although dreams of winning the district will likely have to wait another year after the Patriots lost to Edison last week — while Washington-Lee and Wakefield are exceeding expectations.
The Generals, under coach Josh Shapiro, evened their record at 3-3 last week, but one of those losses came by two points to a solid Mount Vernon squad. Thrust into the starting quarterback position three games into season, senior Charlie Fuller has amassed a 2-1 record behind center, the lone defeat coming against the Majors.
Wakefield is coming off a program-defining win last week that saw the Warriors score 28 unanswered points against Falls Church after trailing 10-9 heading into the fourth quarter. The win was Wakefield's second in National District play — equaling the team's entire win total from a year ago.
After its game against Washington-Lee this Friday, Wakefield faces Yorktown on October 17 at Wakefield. The Generals and Patriots close out their regular-season schedules against one another in a game that — thanks to Washington-Lee's better than expected start — could have major Northern region playoff ramifications.