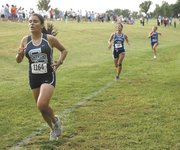 Individual success in the sport of high-school cross country is measured by a runner's ability to improve on his or her times throughout the course of a season. This not only benefits the athlete, but the team as well. At Stone Bridge High, the girls' team displayed the steady progress it has made this fall during a meet at the Carlisle Invitational Sept. 27. There, the Bulldog girls experienced their best race of the season, finishing eighth overall in a field of 19 teams. The regular season event took place at Carlisle High School in Carlisle, Pa.
"As a team, the girls had their best race [of the season] there," Stone Bridge Coach Jen Oblas said. "Each [runner] had their best times [of the season]."
<b>OBLAS SAID THE</b> Stone Bridge program travels each year to an invitational type of competition outside of the Northern Virginia area. This year, such a competition took place in Carlisle, located outside of state capitol Harrisburg. Carlisle, during the 1970s, was the training camp home of the Washington Redskins, who were then coached by George Allen. One of Carlisle's claims to fame is being the home of former Olympic great Jim Thorpe.
"We like to go somewhere new each season," Oblas said of Stone Bridge's annual pilgrimage away from the Loudoun County area. "It was a great trip. There were mostly Pennsylvania teams."
The Stone Bridge girls have put together a nice season thus far, thanks partly to a strong group of senior runners.
"The girls have been really successful," Oblas said. "We're looking to capitalize on their experience."
The team's No. 1 runner is senior Stephanie Paradis, a third-year member of the Stone Bridge program. Paradis earned an individual medal with a strong race at the Carlisle meet.
"We're looking for her to be a contender for a top district spot," Oblas, whose team is part of the Liberty District in the Northern Region, said. "She has a lot of natural talent."
Paradis, during other parts of the school year, competes in the 400 and 800 events as a member of the Stone Bridge track and field team.
"That's her first love," Oblas said of Paradis' passion for the indoor and outdoor track seasons.
Stone Bridge senior Marissa Yoder has consistently been one of her team's top finishers this season.
"She did well last year, but has definitely improved this year," Oblas said of Yoder's strong autumn season.
And Megan Dunne, another key 12th-grader for the girls' squad, is experiencing a successful season as one of Stone Bridge's top runners. Last year was a struggle for Dunne, who dealt with shin injuries. But she is back and healthy this fall.
"She's doing great for us this year," Oblas said.
A key underclassman for Stone Bridge has been sophomore Caroline Snell, who of late has been the No. 2 runner on the team ladder. Several weeks ago she had a solid showing at the annual Oatlands' meet in Leesburg.
"Every race she's been getting better and faster," Oblas said of Snell. "She s gotten a little experience and realized she is pretty good at this."
<b>THE STONE BRIDGE</b> boys are a younger squad overall this season. Top runners have included senior Ryan McPoland, the team's No. 1 runner, sophomore Joe Lynch, a transfer student from Notre Dame Academy, freshmen Nick Robles, junior Nick Driskill, who has shown steady improvement in each of his three years as a member of the team, and junior Reed Sullivan, a steady runner and consistent finisher.
Both the boys' and girls' teams competed at the Octoberfest event this past Saturday. This upcoming Saturday, the Bulldogs will participate in the Glory Days meet at Bull Run Park. The Liberty District Championships are scheduled to take place Oct. 22 at Burke Lake Park. The top-four teams on both the boys' and girls' sides at districts will advance to the following week's Northern Region Championships, also at Burke Lake.