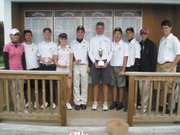 Westfield golf coach Tim Vigotsky has a problem. High school rules dictate that he must order his golfers No. 1 through No. 6, with each player's tee time and competition reflecting that ranking.
But, here's the problem, Vigotsky doesn't see a difference between his first golfer and his sixth.
Neither did the rest of the region.
Last Wednesday at Fairfax National Golf Club, Westfield won the 2008 Northern Region title, besting second-place Langley, 616-611.
Vigotsky's six golfers turned in two-day scores of 153, 154, 155, 157, 158 and 159.
"Throughout the year, I just kind of mixed the kids up," Vigotsky said. "They'd all feel that they were interchangeable, so we didn't get hung up on slotting people."
Captain Jack Debell led the charge, finishing fifth overall with a score of 153 (77, 76). Sara Stanley, who started as the team's No. 6 golfer, led the Bulldogs with an opening-round score of 74 and finished with a two-day total of 154 (T-8th).
Fellow captain Brian Keith shot a 155 (T-10th), while Tim Ritter (157, T-15th), Wes Liu (158, 17th) and Jimmy Sanders (159, T-18th) rounded out the scoring.
"We didn't panic," Vigotsky said. "I think they always felt that someone else would pick up the slack."
<b>IN OTHER ACTION</b>, Chantilly's Ji Soo Park posted a two-day score of 147 to finish behind first-place Brian Jaeger of Langley. As a team, the Chargers finished fourth.
Centreville's Norri Hyun finished third with his score of 148. Han Joe Kim, who tied with Hyun for eighth place at the district tournament, finished 10th with a score of 155.
Park, Hyun and Debell will advance -- along with Westfield -- to the Virginia AAA championships, held Oct. 20-21 at Independence Golf Club in Midlothian.