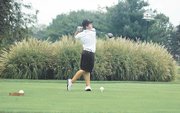 One stroke. It's not an insurmountable task. Any 49-year-old customer service representative could easily manage to scrape one stroke off of his or her golf score.
With that mentality, Westfield golf coach Tim Vigotsky called his team together midway through the Concorde District Golf Tournament, held last Tuesday and Wednesday at Twin Lakes
Country Club.
Vigotsky asked he players, honestly, if they thought they could shave one stroke apiece from an opening day score of 298. "Absolutely," was the collective response. With that, Vigotsky ensured that a six-stroke savings would produce a district title over rival Chantilly.
And almost on cue, each Westfield golfer did exactly what Vigotsky asked and the Bulldogs earned the Concorde District championship, finishing with a two-day score of 590 and topping the Chargers by 19 strokes.
"We kind of trade blows with Chantilly. It's
always back and forth, and it's always within a shot or two," Vigotsky said. "I think the best thing that I can do as a coach on our staff is, for the most part, to stay away because these kids are so seasoned and talented."
Three of those kids turned in Top 5 performances. Junior Tim Ritter, who credited his straight drives and cautious but successful putting approach for the win, won the individual district title with a one-under 143.
Joining Ritter was classmate Wes Liu, who tied for third with a two-day score of 148, while senior Brian Keith tied for fifth with his score of 149.
"I've been working hard and finally something good happened," Ritter said.
Vigotsky, a successful and avid golfer in his own right, has essentially laid out a six-step plan for his team, much like the six-stroke stroke request after the first day of districts.
<b>WITH THE TWO-DAY</b> district tournament serving as the first two steps, the next two will happen next Tuesday and Wednesday when the Bulldogs try to conquer the Northern Region Tournament, held at Fairfax National Golf Club. Following that, steps five and six include the ultimate goal of a state-tournament berth.
But all of that, still, is a long way away. Just ask Chantilly sophomore Ji Soo Park, who was forced to endure a tough reality when it comes to the sport of golf and finished a surprising second with his two-day score of 144.
Park fought through a windy day but eventually the course and conditions proved to be too much. According to Park, his second shots — mostly from around 100 yards — suffered the most and he was never able to get into a rhythm.
"I wasn't very happy," Park said. "I was trying to test my swing, but it didn't work well. It was pretty bad."
Park was still able to help with fellow Chargers to a second-place finish (609) and now the season series with Westfield is tied at one.
"It's golf, so you never know what you're going to get from day to day," said Chantilly coach William Seals. "We got them earlier this season, they got us at districts and it's a really, really friendly rivalry. They're a great bunch of kids. Maybe we'll get them at regionals … who knows."
<b>IN OTHER TOURNAMENT ACTION<b>, Centreville finished third with a team score of 613. Two Wildcats finished in the Top 10, namely sophomore Norri Hyun (T-8th, 151) and junior Han Joe Kim (T-8th, 151). Chantilly junior Sam Chanhiran tied for fifth with a score of 149.