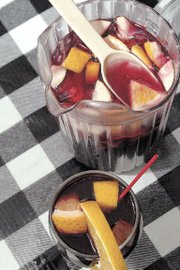 Local charities and local artists will both benefit from the "Taste for Giving" to be held at the Torpedo Factory Art Center, 105 N. Union St., Friday, October 24. In addition to spotlighting local philanthropy and artistic talent, the evening will feature local food, beverages and entertainment.
A joint venture by the Alexandria Rotary Foundation and the Alexandria Commission for the Arts, all proceeds will go to aiding over 35 Alexandria charities. The event will also highlight the Commission's annual ALEX Awards which recognizes local individuals, organizations, schools and businesses that have "made an exceptional contribution to the city's cultural life."
"This is Rotary's big event for the year to raise funds for Alexandria charities. We usually give approximately $100,000 per year to support a variety more than 50 charities -- with particular emphasis on those that aid children's causes and education," said John Renner, Rotary co-chair of the event.
"We had scheduled our event when the Commission suggested that we combine it with their annual presentation of the ALEX Awards. We thought that was a great idea and would benefit both organizations," he said.
In addition to the ALEX Awards, which will be presented by Mayor William D. Euille, there will be both a silent and live auction plus food and beverages from local restaurants. The silent auction will offer a wide array of items including jewelry, art, and a DC United fully autographed soccer ball.
The live auction will focus on three items: A three hour cruise for a group of up to 30 people aboard the Admiral Tilp catered by Mango Mike's Restaurant; a pig roast with all the fixing prepared at the winner's home; and an oriental carpet from J&J Oriental Rugs.
The following restaurants will supply food and beverages for the evening: Landini Brothers, Tempo, Tasteful Affairs, Finn & Porter, Hard Times cafe, Bittersweet, Clipper City, Fish Market, Red Hot & Blue, Jackson 20, Cafe Pizzaiolo, Rocklands' Real Barbecue, DAKS, Jamison Grill, Ben & Jerry, Union Street, and Starbucks.
Various businesses and organization, as well as the Torpedo Art Center artists, are providing sponsorship for the event with the primary sponsor being Virginia Paving Company. "Virginia Paving provides families a smooth ride home everyday. We hope by sponsoring this event to provide charities favorable resources in this challenging economy," said Virginia Paving spokesperson John Irvine.
The annual ALEX awards, under the aegis of the Alexandria Commission for The Arts, promotes interest and involvement in the arts by recognizing excellence in four categories:. Artistic discipline; Service to the arts; Outstanding contributions to arts education; and Innovative partnerships between business and the arts.
Artists who either live or work in the city are eligible to submit a proposal for up to five art pieces each year. The theme of this year's competition is "The Global Arts in Alexandria."
Winners receive a $500 award for each piece chosen as well as a commissioned piece of art from an Alexandria artist, according to the Commission. All entries had to be submitted by June 16.
"We hope to have 300 or more people attend "Taste for Giving." It should be not only a fun but also a very rewarding evening for everyone," Renner said.
Tickets for the event, which is scheduled from 7 p.m. to 10 p.m., are available online at AlexandriaRotary.org or by calling 703-535-1200. They are $75 per person.