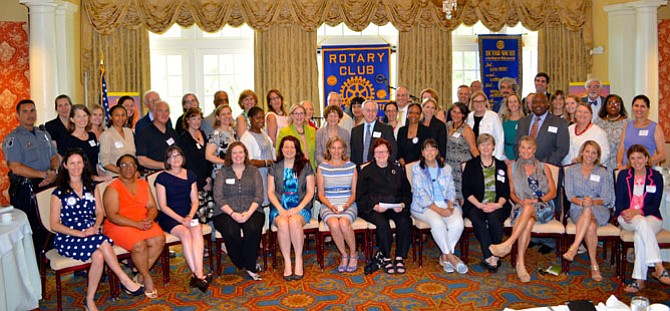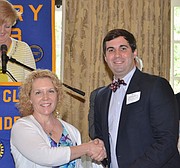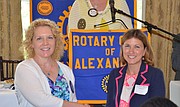 The Rotary Club of Alexandria, in partnership with the Alexandria Day Nursery and Children's Home, continued its decades-long tradition of awarding grants to local nonprofit organizations with the presentation of more than $112,000 to 45 organizations at the annual Contributions Day luncheon June 30 at Belle Haven Country Club.
The Alexandria Rotary Foundation donated funds to local organizations dedicated to serving an array of needs in the community. The Alexandria Day Nursery and Children's Home, originally established in the 1930s as part of the Rotary Club, awarded grants to nonprofits primarily focusing on the needs of children. Grant applications are reviewed with consideration given to the sustainability of the project, how it is helping those most in need and how the project contributes to the community.
The Rotary grants support programs as diverse as the Campagna Center's Head Start program, Rebuilding Together Alexandria — providing safety improvements to allow seniors to age in their homes — and Volunteer Alexandria — connecting volunteers with nonprofits.
Grant funds are raised each year through Rotary's signature "Taste for Giving" event, a fundraiser featuring Alexandria restaurants, a wine tasting from local vineyards, live music and live and silent auction items donated by local businesses. This year's event will be held Oct. 23 at the U.S. Patent & Trademark Office.

"Taste for Giving is a highlight of each Rotary year and is a wonderful way for the community to support so many outstanding service organizations which help the needy in our community," said Alexandria Rotary Club president Joan Renner. "The evening exemplifies the Rotary mission of 'service above self.'"
The 45 Alexandria organizations receiving Rotary grants include: Alexandria Police Foundation; Alexandria Police Youth Camp; Alexandria Seaport Foundation; Alexandria Symphony Orchestra; Alexandria Tutoring Consortium; ALIVE!; Arcadia Center for Sustainable Food & Agriculture; Arts on the Horizon; Beverly Hills Church preschool; The Butterfly House, Virginia Theological Seminary; The Campagna Center; The Campagna Center – Head Start; Carpenter's Shelter; The Center for Alexandria's Children; Child & Family Network Centers; Community Lodgings; Computer C.O.R.E.; Concerned Citizens of Alexandria; Emmanuel Episcopal Preschool; Empowered Women International; First Night Alexandria; Goodwin House Foundation; Grace Episcopal School; KI Services; Liberty's Promise; The Literacy Council of Northern Virginia; Neighborhood Health; Rebuilding Together Alexandria; Resurrection Children's Center; RunningBrooke; St. Clement Episcopal School; SCAN (Stop Child Abuse Now); Scholarship Fund of Alexandria; Space of Her Own; Arc of Northern Virginia; The Reading Connection; Together We Bake; Valley Drive Cooperative Preschool; Volunteer Alexandria; Washington Street United Methodist Church Preschool; Westminster Weekday Preschool; and Wright to Read.
For more information about Taste for Giving, the Rotary Grants Program or the Rotary Club of Alexandria, contact John Moorman at 571-255-0234 or jmoorman70@yahoo.com.