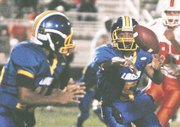 Pierre Williams has seen his younger brother, Jazmier, play only twice this season. Pierre Williams, who was a standout tailback for the Lee Lancer football team last fall, attended a game against Centreville on Sept. 12 and last Friday's clash with Hayfield.
Friday marked Lee's homecoming and Pierre Williams, who was crowned Homecoming King last year, had to be there. He was involved in the halftime ceremony.
In addition to helping crown this year's king, Pierre Williams played a motivating role for his younger brother.
"It got me hyped," Jazmier Williams, a junior running back, said of his older brother's presence during a 24-7 win over the Hawks. "It really made me want to play because I saw him out there."
<b>THOUGH HE POSSESSES</b> a different running style than his older brother, Jazmier Williams slashed his way through and around the Hayfield defense, running 34 times for 212 yards and three touchdowns. Lee improved to 2-6 overall, 1-4 in the Patriot District.
In the Lancers' game against Centreville, Jazmier Williams accumulated 97 yards and two touchdowns against the Wildcats, giving Lee a 23-10 win and Pierre Williams a 2-0 record in games he's attended since graduating.
As one of the strongest players in the Northern Region last year, Pierre Williams spent most of his time taking on tacklers and eventually taking them down. Conversely, the 5-foot-7, 185-pound Jazmier Williams would rather run around a defender than through him.
During the off-season, with the graduation of Pierre Williams and quarterback Kelly Fitzgerald, offensive coordinator Brian Magaha tweaked his team's playbook. It wasn't a complete overhaul, but the Lancers shifted to a spread formation, providing Magaha's smaller, faster players with more space to operate.
The move benefited Jazmier Williams. But another one of Lee's smaller, faster players, junior quarterback Greg Lopez, has enjoyed a string of success that wasn't quite as expected.
"I remember in our first scrimmage, we made a couple of mistakes option-wise. But to go back and watch that film and see how far Greg has come … Greg has just come so far in his progress," said Lee coach Rob Everett, whose team will host T.C. Williams on Friday. "It's a mental swagger and a way of carrying yourself that he does a real good job of."
<b>AGAINST HAYFIELD</b>, Lopez connected on four of his six passes for 64 yards. He also posted 14 carries for 30 yards. Two of those passes went to senior wideout Sharam Obed, who has quickly become Lopez's top receiving threat.
"Last year, we always hung out together, and we always threw the ball with each other," Lopez said. "It created that chemistry and it's starting to show right now."
After Anton McCallum ran 47 yards for a score on the Hawks' (1-7, 0-5 Patriot) first possession, Lopez scrambled twice to buy time and lofted a pair of passes to Obed on Lee's first touchdown drive. Jazmier Williams eventually capped the scoring march with a 4-yard run, and junior Mikquan Johnson booted a 34-yard field goal as the Lancers took a 10-7 halftime lead.
Early in the fourth quarter, after a 14-yard scramble from Lopez nearly converted a third-and-15 situation, Jazmier Williams kept the drive alive with a 2-yard run on fourth down. He scored from 49 yards out on the very next play.
Fitzgerald didn't see Jazmier Williams' third touchdown, which came from six yards out nearly seven minutes later to seal the win. Even so, Lee's two departed skill players liked what their replacements had to offer on homecoming.
"Quarterback is an extremely tough position. Most of it has to do with experience, but from what I saw I was very impressed," said Fitzgerald. He was unable to attend homecoming because he's a redshirt-freshman on the William & Mary football team, but he caught the Oct. 10 game at Annandale. "They're running a pretty dynamic offense this year and it takes really good athletes to run that offense."