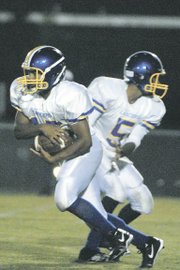 Following a 42-13 loss to Stone Bridge in the first round of the 2007 Northern Region playoffs, the Lee football team was tired. Beat up and disgusted, the Lancers had just wrapped up a 2-9 season, which ended with the playoff loss due to a tough schedule and the region's new power point system.
But for the Lancers, the loss simply meant that they needed to get back to work.
Starting the following Monday afternoon,
Lancers coach Rob Everett had his team back in the weight room: lifting, grunting and lifting some more. Everett has stressed to his players that few things in life are guaranteed, and that more often than not, success must be earned.
"We're built on hard work, and we have to stick to that formula to be successful," Everett said, who's in his third year of work at the school and has guided 17 players to collegiate football programs. "Wins and losses don't tell the whole story of this team."
And such has been the case this season. Despite the loss of three starters on defense and seven on the offensive side of the ball, Everett's hardworking Lancers have improved dramatically.
<b>THROUGH THE FIRST</b> five games of 2007 — all losses — Lee had been outscored by an average of 21.8 points per game. This season, despite only a one-game improvement at 1-4, the margin that has separated wins from losses has been much smaller. Lee has only been outscored by 6.4 points per game and has averaged more than twice what it did offensively in 2007.
One reason for Lee's offensive resurgence has been junior running back Jazmier Williams, whose older brother Pierre was a talented senior tailback for the Lancers in 2007. Last Friday, in a 27-23 loss at South County, Jazmier Williams carried 29 times for 191 yards and three touchdowns.
Whether it was an outside sweep or a run between the tackles, Williams proved effective carrying the ball. A lifelong offensive and defensive lineman, Williams not only provides Lee with a game-breaking offensive threat, he can be pretty nasty while doing it.
"People say that I don't look like a running back," said the 5-foot-8, 175-pound Williams. "You don't have to have a look to be a running back. Running backs can look any kind of way. I take part of that into being mad and I put it out there on the field."
"He's one of the toughest kids on the team," said Everett, of his talented runner. "Our whole crew is tough, and he epitomizes it. He's probably the quietest kid we have on the team, but it's funny because the way that he runs you don't really notice that."
<b>AS MUCH OF A POSITIVE</b> as Williams has been, Lee's biggest problem this season has been finishing each game. In a Week 4 loss to West Potomac, the Lancers missed a 20-yard field goal for an overtime win and eventually suffered a 28-21 loss. Against South County, the Lancers squandered a 10-point lead with a little more than two minutes left.
"This is the second week in a row where we had the game won and gave it away. Winning teams don't do that," said Everett, whose team fell to 0-2 in the Patriot District. "But this team's got something special in them, and we're working on when a game is ours. … We're finishing it."
True to Everett's philosophy of hard work and an increased focus on fundamentals, Lee has already drawn upon a small but important improvement from the West Potomac loss.
With a seven-point lead late in the fourth quarter, Lee attempted a field goal, the botched attempt from two weeks ago rehashed. But unlike the previous blocked kick, Lee averted the South County rush and kicker Boris Perez booted it through.
"The thing they're getting [from the close games] is that they know they can win. It's just sucking it up and getting it done," said Everett, whose team will host Lake Braddock on Friday. "There were some positives that we got here. It's those victories that we're going to take away, talk about in film work and go from there."