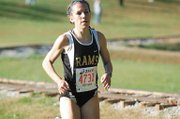 Before the weather took a turn for the worse, the Concorde District championship meet on Oct. 22 offered an afternoon full of first-time occurrences.
For the first time during Robinson cross-country coach Jeremy Workman's 14-year tenure, senior Jared Berman won an individual district title. Also for the first time during Workman's tenure, senior Stephanie Bray won her first individual district title.
Although official statistics aren't kept on this one, for the first time during Workman's tenure a giant, fuzzy Ram mascot accompanied Robinson's runners at Burke Lake Park.
"We were ready," said Berman, who along with Bray grabbed his first-ever first-place finish Wednesday, Oct. 22. "We're extremely excited. This is something we've been waiting for."
While Berman and Bray won their respective races in different fashions, both runners represent a reason for optimism at Robinson, as Bray led her girls team to a first-place finish, holding off Herndon, 40-52.
<b>WHEN BRAY MADE</b> her first pass through the crowd, she trailed Herndon's Hiruni Wijayaratne by nearly 10 seconds. After Bray and Wijayaratne wound around the amphitheater and ran parallel with a set of train tracks, Bray faced the same challenge.
Wijayaratne, who finished third in last year's district meet and second in last year's region meet, doesn't relinquish leads easily. Bray, who finished 10th and 32nd in those races, respectively, wasn't used to taking them away from her.
Still, with the word "believe" scrawled on her hand in black magic marker, Bray believed enough to make a push at Wijayaratne with about 90 seconds left.
"I had no idea I was going to be back that far, and then I was running and I thought, 'I think I can do it. I think I can do it," said Bray, who eventually passed Wijayaratne to take first place with a time of 18:22.
Bray moved to Fairfax County from Nease High School in Ponte Vedra Beach, Fla. prior to her sophomore season and was able to fly under the radar for part of that year. But after running a sub-18-minute time on the same course at Burke Lake Park, word got out about Bray's abilities.
<b>IN ADDITION</b> to growing three inches prior to her junior season, Bray not only had to adjust physically, but she also had to deal with the mental strain that comes with battling someone like Wijayaratne race in and race out.
"I think she worked the hardest on coming back this year and really getting the confidence back mentally," Workman said of Bray's up-and-down junior season. "When you talk about her and Jared, they've really put in some very impressive workouts, and I think that builds confidence that you know you can do that in a meet."
Like Bray, Berman benefited from that newfound confidence, holding off good friend and training partner Chris Foley of Chantilly to win the boys individual title with a time of 15:22.
"The whole week, we were concentrated only on the race," Berman said. "Every 10 seconds I was thinking about districts. I was visualizing the race in my head and everyone has to make a move. I thought about it every day."
So how does the emergence of Bray and Berman affect Robinson's program as a whole?
"We've had a good program for quite a while and it kind of re-emphasizes that with our team," Workman said. "Right now, our teams are going in the right direction at the right time. That's all, as a coach, you can ask for.
"You want your team to be as confident as it can be, running its best at the end of the season if you have hopes of doing anything special during the next couple of weeks."
Both Berman and Bray will take part in Thursday's Northern Region championships, which will be held on the same course. Start time is 3:15 p.m.