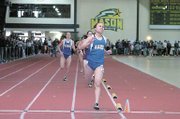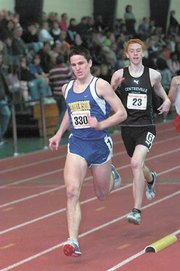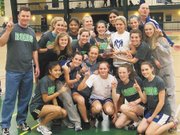 Kelly Kavanaugh led her team from one side of the Field House at George Mason University Saturday, Feb. 21, to the other. As the Robinson girls indoor track and field team posed for pictures, Kavanaugh reminded everyone to smile, and she also took care of coordinating who stood where.
Later, after the Rams finished celebrating their first Northern Region title since 1987, Kavanaugh had other, less-glamorous matters to tend to.
"Make sure you throw away your trash," Kavanaugh yelled to nobody in particular, tugging a trash can closer to where her team was stationed for most of the day.
It's in moments such as these when Kavanaugh's value to her team supersedes meters, minutes or seconds. It's her role, as team captain, that she doesn't take lightly.
"I'm always the first one to get here and the last one to leave because being a team captain, there's a lot of stuff that people don't see that you have to do," said Kavanaugh, a distance runner who finished third in the 1,000-meter run and third in the 1,600.
"When other people do well, it makes me feel good," Kavanaugh said. "Just because that's the type of person I am, I like to see other people get excited."
<b>IN MORE WAYS</b> than one, Kavanaugh had her work cut out for her on Saturday. The Robinson girls team totaled 71 points, 15.5 more than second-place Herndon. Furthermore, the girls team, bolstered by a mix of talented freshmen and senior leaders such as Kavanaugh, took first in four of the 15 events.
At the start of the 4x400 girls relay, the final event of the eight-plus hour day, freshmen Elizabeth Roberson took the baton and made a push around the third turn as her teammates began to chant, "She's a freshman. She's a freshman," somewhat tauntingly.
After Jensen Smith and Ali Heck took control of the race, Genamarie McCant's performance brought forth the same chant. Robinson has staked its future — and Saturday's meet — with Roberson and McCant.
"We had a plan and we explained the plan to the girls this week," coach Mark Gleason said. "They accepted it and worked hard. You could tell just by the way they were carrying themselves in the hallways at school that they were taking it very seriously."
McCant won both the 300 (40.93) and 500 (1:14.49) dashes, while Roberson ran the anchor leg on Robinson's first-place 4x200 relay team of Audrey Barry, Smith and Heck, which clocked a time of 1:45.70. Barry took third in the 500 (1:16.43), two spots behind McCant.
Gleason, whose team will compete next at Virginia AAA meet at the Boo Williams Complex in Hampton Roads this weekend, also praised the work of Marian Dougherty, who finished third in the high jump at 5 feet, 2 inches.
"I've never run on a team before, and I didn't get the whole team thing until this meet," said McCant, who rolled her right ankle at a meet on Jan. 24. McCant admitted the ankle bothered her on the turns but other than that she felt OK.
<b>THE BOYS TEAM,</b> led by first-place efforts from high jumper Joey Muzzio (6-03) and distance runner Jared Berman, who finished first in the 1,600 with a time of 4:18.93, grabbed fourth with 44 points. South Lakes was first with 59.5.
Berman, the reigning Concorde District cross-country champion, held off Edison's Leoule Degfae and Oakton's Neal Hendricks to win by almost four seconds. According to Berman, his training regimen has him peaking at the perfect time.
Degfae has developed a reputation as someone who excels late in races, but Berman took the lead with more than two laps to go, unafraid of the challenges that come with leading Degfae late.
"I just felt great during the race, and you just have to take those risks I guess," Berman said. "I took the lead and I believed in myself. I finished great, I kept my form good. I went over the race in my head, and it helped a lot. You have to believe in yourself."
W.T. Woodson's Erica Howes posted a pair of top-three finishes, taking second in the 1,600 with a time of 5:07.72 and third in the 3,200 at 11:16.00. The girls 4x400 relay team (Lindsey Ottavio, Tiffany Walters, Carrie Pritchard and Jaime Pritchard) was second at 4:04.48. Fairfax sprinter David Ladd took second-place honors in the 55 dash, clocking a time of 6.52.
The W.T. Woodson girls team was seventh with 38 points and the boys team was 25th, while the Fairfax girls and boys teams took 24th and 13th, respectively. Robinson's boys 4x200 relay team of Jae Seon Shim, Ryan Tarpey, Bradley Burgess and John Ro took third at 1:33.92.