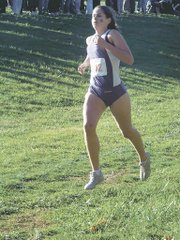 At the first mile marker Thursday, Oct. 30 during the Northern Region cross-country championships at Burke Lake Park, Edison's Leoule Degfae, Chantilly's Chris Foley and Robinson's Jared Berman were clocked with a time around 5 minutes, 5 seconds.
While a time like that might put one of the other 124 male runners on another planet, for the three close friends that time was unusually slow.
"I thought I was on a morning stroll, just jogging," said Degfae, who emerged victorious with a final time of 15:12.27, claiming the first individual title for an Edison runner since George Watts in 1973-74.
An early-race traffic jam contributed to the slower-than-normal pace, although Degfae, who won the National District's individual title last week on the same 2.98-mile course, didn't exactly complain.
Edison coach Bernadette Flynn consulted with Degfae before the race and the two decided it would be best to avoid an early lead. But with a 2-mile pace that hit around 10 minutes, Degfae began his push to the front.
"I kept passing people and that motivated me," said Degfae, who had fallen back to fifth before taking the lead for good. "[Flynn] asked me why I took the lead and I said, 'Ah, it kind of felt too slow for me.'"
Behind Degfae, Foley followed last week's second-place finish to Berman at the Concorde meet with a second-place region mark Thursday, clocking in at 15:20.66.
Foley, who won the Monroe Parker Invitational Sept. 16 on the same course, hit a rut while running down the final hill.
"I thought that if I fell there, I would never live it down," Foley said. "And that kind of snapped me out of it and then I just got my kick for the finish."
Oakton's Andrew McCullen (15:31.06) outkicked Berman (15:31.48) down the stretch for third, leading to Oakton's boys team win with 63 points. The Cougars held off second-place Robinson (88 points) and third-place Jefferson (115).
<b>THE EARLY LOGJAM</b> was duplicated during the girls' race. With five runners bunched together as they passed through the crowd, Lake Braddock's Liana Epstein was simply
biding her time.
Epstein and Lake Braddock coach Mike Mangan decided she wouldn't try to push anything until she was comfortable enough to lead for good. Once she reached Oak Tree Hill, part of the course, Epstein felt confident enough to make her move.
"I'm really happy with how it went, obviously," said Epstein, a junior who finished with a time of 17:46.04. "My plan was to go out, make my way to the front pack, and not stress out too much. If I felt good, I was going to go. Then I got to that point and I did."
Epstein was trailed by Stone Bridge's Stephanie Paradis (17:58.75) and Jefferson's Stephanie Marzen (18:00.21) and contributed to a fourth-place finish for Lake Braddock's girls team.
Behind Marzen for the Colonials were Sarah Stites (eighth, 18:08.06) and Katherine Sheridan (11th, 18:15.65), leading Jefferson to a first-place finish on the girls side. With 69 points, Jefferson held off second-place Oakton (100 points) and third-place Robinson (110).
"They ran beyond our expectations," said Jefferson coach Matt Ryan. "One of runners from last week had a foot injury, and we were one person short. So we went in with reasonable expectations, just run well and advance. That's phenomenal that we were able to win."
With a second-place finish on the boys' side and a third-place finish for the Robinson girls, coach Jeremy Workman will guide both of his teams to next Saturday's Virginia AAA state championship meet at Great Meadow in The Plains. That meet will include the top four teams and top 15 individual times from Thursday's race.
"The main thing is that we're moving on," Workman said. "And that was big because a month ago it didn't look likely that they'd be moving on. This, to me, is the most stressful of the [district, regional and state meets] because this is where it's easy to choke."