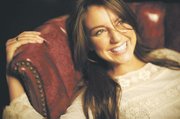 Amie Miriello is an up-and-coming singer/songwriter from Stamford, Conn. She performs at the Birchmere, 3701 Mount Vernon Ave., on Wednesday, Nov. 12.
Miriello describes her music as "soulful, poppy folk-rock – cry in your car kind of stuff." She talked to the Gazette about getting started in the industry, touring and finding her voice on her debut solo album "I Came Around." To hear her music and learn more visit www.myspace.com/amiemiriello.
<b> How did you get your start as a singer/songwriter?</b>
I could always sing, but I ended up teaching myself to play the guitar at 15 after being inspired by my favorite artists like Ani DiFranco and Tori Amos. I moved to NYC after studying music in boarding school and started bartending and gigging around the city until somebody noticed.
<b>Who has influenced you musically?</b>
Tori, Ani, Joni Mitchell, The Beatles, Jimi Hendrix, and lots of classic rock acts.
<b>What's special about your new album, "I Came Around"?</b>
It's the first time I can actually hear my own vision recorded instead of somebody else's vision being imposed on me. I feel like it's a very honest and personal record.
<b>Where have you toured? Any favorite venues?</b>
Everywhere and it's mother...minus Europe. I would have to say that my favorite place to play is NY cause that's where my friends and family are which is always great. The Living Room in NY is one of my favorites, just cause it is small and intimate but easy to fill and usually a really excited crowd.
<b>Can you recall any particularly memorable tour experiences?</b.
I think that the greatest experience any artist can have is playing on stage and looking out into the crowd and seeing people knowing the music and singing along. Driving into the venues and seeing the signs with my name on it is always a really amazing feeling. Also, my memory is equivalent to that of a small ant, so singular memories are a thing of the past.
<b>What are you most excited about with this fall's tour?</b>
One of my goals on the tour is to get better as an artist and a performer every day. Touring forces you to practice daily in front of a crowd and there is really no substitute for that. I also would love to begin writing my next record as the tour goes on, because touring is such a unique and inspiring experience.
<b>Have you collaborated with other artists? What have those experiences been like?</b>
I have collaborated with a lot of other writers and artists, sometimes its really great, and sometimes it totally blows. It really all depends on who you are talking about. Writing for me is such an intimate process, I have a hard time just letting anybody in.
<b>What's your proudest achievement?</b>
I can honestly say that I have yet to accomplish what I would consider my proudest achievement. It is a work in progress.
<b>What part of putting out an album (writing, recording, touring, etc.) do you enjoy most? Why?</b>
Definitely writing. It makes me feel validated, that I have accomplished a piece of work that not everybody else could have. I enjoy the artistic aspect more than anything else.
<b>What do you hope listeners get out of hearing your new album?</b>
I hope that they find something to relate to and can feel like they are connected to what I have gone through. The artists that I grew up with literally saved my life. I don't expect to be a life saver, but I would love to make an impact on somebody's life...make them feel like it is ok to feel this way, and that they will get through it in the end.
More like this story