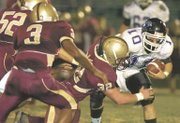 There probably are not any more nonbelievers as to Broad Run High's football dominance in the Dulles District following the Spartans' thorough domination of Potomac Falls, 38-0, last Friday night in Ashburn.
"All the hype last week [leading into the game] and all the doubters fired us up," Broad Run senior running back Breon Earl, who scored three touchdowns to lead the home team, said. "We fed off that and had the intensity of our fans."
Broad Run, the defending district champions who entered Friday's game with a perfect 7-0 record, understood going into the game that its greatest hurdle in capturing another district title was a Potomac Falls team that also was unbeaten at 7-0. The Spartans more than answered the challenge, building up a 35-0 halftime lead and coasting from there.
"They won the battle of the trenches, they beat us up front," Potomac Falls Coach Scott Woodlief, whose team has been one of the success stories of Loudoun County this fall, said. "It was two good football teams playing. Tonight, everything was going their way. They made some good plays. They jumped on us so quick and then continued to roll."
Broad Run still has some work to do to clinch the district title and complete a second consecutive 10-0 regular season. The Spartans must win at home this Friday night against 1-7 Freedom, then defeat Park View on the road Nov. 7 to win the championship outright. Potomac Falls, still in good standing for a Region II playoff berth, will look to rebound with a strong game against tough Briar Woods (7-1) this Friday night at home before finishing the schedule at Dominion the next week.
<b>BROAD RUN</b> Coach Mike Burnett sensed his team was ready for the big game with Potomac Falls. The Spartans, he said, had their best week of practice since preparing for Briar Woods on Sept. 26, a contest Broad Run had won with relative ease, 29-0.
"They are young kids and a lot of the game is mental," Burnett said. "We had our two best weeks of practice for Briar Woods and this game."
Usually a team that dominates on the offensive and defensive lines wins in football. That was the case on Friday, where Broad Run rushed for 196 team yards to Potomac Falls' 38. The Spartans' talented skill-position players, running backs Earl and TJ Peeler, utilized the holes created for them by their offensive line. They also displayed their skillful moves, cuts and bursts of speed to cash in on several big plays. Numerous times it appeared Potomac Falls' defense had the two running backs in check, only to see them escape for big chunks of yardage.
"Our backs really had a heck of a night," Burnett said. "TJ and Breon were up for the game and really ran hard."
The two accounted for all five of Broad Run's touchdowns, all coming in the first half. Earl (11 carries, 54 yards), the dynamic, smallish flanker who is as tough as he is fast, ran for scoring runs of 20, 1 and 9 yards. His 20-yard score, capping Broad Run's first possession of the game, came on a pitch right play in which the scatback methodically looked for a hole before making a couple of nice cuts and then bolting left and down the center of the field and into the end zone.
"That's what we wanted to do on our first drive," Earl said of getting the early score. "We knew if we could score on our first drive, the fans would get into it and we'd win. The fans really played a big part in it. They were all sitting there [in the bleachers] in the back of the end zone."
On his third touchdown midway through the second quarter, Earl took another pitch right and made a hard fake as if he was going to continue in that direction. He then darted left into open space before diving toward the left hash and into the end zone.
<b>PEELER</b> (80 yards on 16 carries) finished with two touchdowns. The 11th-grader's most impressive run of the night came on the first play of the second quarter when he broke a tackle in the backfield before bursting 5 yards for a touchdown.
"I told guys Broad Run would try to test us up front and if we didn't stop it, they'd continue to do it," Woodlief said. "I don't think we made tackles. We just didn't play fundamental football tonight."
Peeler credited the offensive line for making things happen.
"They were staying on their blocks," he said. "We just came out and played real hard. I wasn't surprised [by the score]. We just came out and played."
Potomac Falls nearly got into the end zone when it had a first-and-goal at the 6-yard line in the fourth quarter, but Broad Run's defense held. Most of the Panthers' yardage in the game came through their passing game where quarterback Greg Woodlief completed nine of 21 passes for 130 yards. Five of the receptions went to Chad McMichael (five catches, 69 yards). But the senior QB was hurt by interceptions by Broad Run's Chris Jessop and Joey Quigg, who had a 35-yard return on his pick.
Coach Woodlief was pleased with the way his team kept fighting in the second half, a half of play in which the game's lone scoring came on an Allen Graham 26-yard field goal late in the third quarter.
"Tonight was a test of adversity," Woodlief said. "The kids came back in the second half and played real hard."