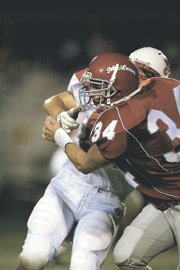 Sometimes, the best time to learn about a team is during a poor game. That might have been the case for the McLean High football squad in its season-opening 49-19 home loss to Annandale last Thursday night.
Under first year head coach Jim Patrick, the Highlanders fell behind early and never were in a position to win against non-district opponent Annandale, which is under longtime head coach Dick Adams.
But Patrick, whose father, Bruce Patrick, is the former legendary head coach at Mount Vernon High School and a current assistant on Jim Patrick's staff, said he was able to gage his new team's demeanor in the setback.
"We found out what kids are going to compete," said Jim Patrick.
Overall, Patrick was pleased with the way his team hung tough and continued to play hard even with the game being well out of hand by halftime with the Highlanders trailing 42-12.
"Things obviously didn't go very well in the first half," said Patrick.
But McLean played a better second half in which both teams scored one touchdown. Defensively, the Highlanders did a better job holding down the Atoms after the intermission. At game's end, McLean defensive coordinator Greg Sullivan, a long time Northern Region assistant coach and the former head coach at T.C. Williams, said his defense will get much better between now and season's end.
The McLean offense, meanwhile, had some highlight moments to build on in the game with Annandale. One of the best games for McLean came from junior running back Riley Beiro, who rushed for 95 yards and two touchdowns on 15 carries. He also provided the game's most exciting play for the large, partisan home crowd when he returned a second quarter kickoff 83 yards for a touchdown to get the Highlanders within 28-12.
On the kick return, Beiro took the ball at the 17 yard line before surging up the middle. He then broke free towards the right sideline and went all the way in for the score.
In the first quarter, Beiro had scored on a two yard run for McLean's first points of the season. That 2 0TD play pulled the Highlanders within 14-6. And in the second half, Beiro scored on a seven yard run with just under 11 minutes remaining in the fourth quarter for the game's final touchdown.
<b>COACH PATRICK</b> said McLean junior quarterback Will Hecht had an up-and-down game. The 6-foot-3 inch signal caller completed 7-of-16 passes for 90 yards and two interceptions. Both of the Annandale pickoffs came in the first half, the first one coming on a deflected pass as Hecht was looking to throw a short ball to his left.
But Hecht had some good moments, completing passes of 27, 23 and 16 yards. Senior running back Kyle McColgan caught three passes for 36 yards and Beiro caught two for 29 yards.
Hecht led McLean on a first half scoring drive of 65 yards over nine plays in the first quarter. A key play in the drive came when he connected with Beiro on a throw to the left that picked up 23 yards to the Atoms' 38 yard line. That drive eventually ended with Beiro's two-yard scoring run.
And Hecht also led the Highlanders on their second half scoring march, which began at the McLean 37 yard line in the third quarter and concluded with Beiro's seven yard scoring run on a sweep right early in the fourth quarter. In all, McLean moved the ball 63 yards on 13 plays.
McLean passed the ball just one time during the touchdown march as the Highlanders ran the ball effectively. The longest yardage play on the drive came on a 10 yard run by senior running back Ullrich Erasmus which got the ball down to the 13.
So Hecht, a part-time varsity starter at quarterback last year, did a fine job engineering two touchdown drives in the game.
"He did well in spurts," said Patrick, of his QB's overall play. "The biggest thing is just his consistency."
Defensively, the Highlanders struggled against a potent offensive attack which is sure to make the Atoms contenders for the Patriot District crown this season.
Annandale senior quarterback Cason Kynes both threw and ran the football effectively out of the shotgun. Through the air, he was an efficient 6-of-11 for 153 yards with a pair of touchdown tosses (5 and 63 yards), both scoring tosses coming in the second quarter. His 63 -yard scoring strike to receiver Melvin Robinson down the left sideline with just over a minute remaining in the first half was a particular deflator for the home team.
Kynes also rushed the ball 11 times for 70 yards and a touchdown. Annandale, as a team rushed the ball for 215 yards. Senior back John Copenhaver rushed for 58 yards on eight carries and scored three touchdowns, two of those coming in the first quarter when Annandale built a 21-6 lead.
Sullivan, the McLean defensive coordinator, has a track record of turning around defenses and making them strong. And he is likely to do the same with the Highlanders. In the first half, Sullivan stood atop the McLean press box with some other coaches overlooking the action. But with the way things were going over that trying first half of play, he came down to the team sideline for the second half and it seemed to give McLean a defensive boost. While Annandale was probably using some of its backups in the latter half, McLean looked better and quicker across the board defensively in that second half.
<b>COACH PATRICK>/b> said he wanted his dad to be a part of his coaching staff upon being hired as the McLean head coach last December. Bruce Patrick led Mount Vernon to several Northern Region titles in the 1980s and to a state crown in 1983. He is part of a handful of great coaches that the region has known, along with such names as Bob Hardage (Annandale), Nick Hilgert (Robinson), Dan Meier (West Potomac/Chantilly) and Adams (Annandale). Bruce Patrick's title with McLean is assistant head coach.
"I grew up around football," said Jim Patrick. "It's a great thing [to have his dad on the staff]. For one thing, he's been there as a head coach and school administrator. You can bounce things off him. He's great to talk to."
Marshall High coach J.T. Biddison was a member of the W.T. Woodson High team which gave the 1983 state champion Mount Vernon Majors their only loss that season under Bruce Patrick. Biddison, who led Marshall to the Div. 5 region playoffs last year, anticipates the McLean team will be in good hands under Jim Patrick.
"I'm sure they'll be well coached," said Biddison, whose team will face the Highlanders in a week six game at Marshall.
While his team lost decisively in the season opener, Jim Patrick said being on the sideline as McLean's head coach for the first time was a great experience last Thursday night.
"It was a lot of fun," he said. "Sometimes it can be stressful, but you've got to try to enjoy it."
This Friday night, McLean will look to get into the win column with a non-district game at Stuart.