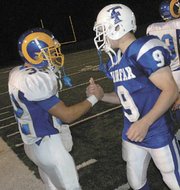 All along, Chris Regensburg knew it was a game he didn't want to miss. Not only would he line up for the final time on a high school football field, he'd do it against an old friend and former teammate.
A pair of senior running backs, Chris Regensburg of Fairfax and Robinson's Wynton Fox grew up playing football together in various Southwestern Youth Association leagues. While sharing the same backfield, Regensburg and Fox developed a mutual respect and friendship away from the football field.
For Regensburg, who suffered a hairline fracture of his fibula against Chantilly on Oct. 17, his status for this game was very much in jeopardy. Still, the hard-hitting running back dealt with the hard-hitting pain and carried three times for 12 yards.
After getting "sandwiched" during a 3-yard gain midway through the first quarter, that was it. Regensburg was done. As he returned to the sideline, Regensburg found himself doing something that he hadn't done much of before. He watched Fox run.
"I was upset that it was my last game, but it was still pretty cool just watching him tear up our team," said Regensburg. "He had gotten a lot better since last year. He hit a couple of holes against us, and he's just got that extra gear."
On those SYA teams, Fox was always the speedy feature back and Regensburg the power fullback.
<b>WHETHER HE WAS</b> three yards ahead throwing a crushing block or faking a dive play so Fox could slither untouched for 72 yards, Regensburg's eyes were never on Fox.
But from the first carry of the game, it became apparent that most eyes would focus on Regensburg's counterpart. Starting the game with a standard off-tackle play to the right, Fox made two moves and cut back against the grain to his left, leaving Fairfax — and Regensburg — grasping at air.
The 64-yard touchdown was one of three that Fox would score on the night, as Robinson (5-5) barreled its way to a 49-14 win. In all, Fox carried eight times for 162 yards, averaging 20.3 yards per carry.
Fox might have won the battle, but Regensburg can still lay claim to the war, albeit not by much.
For the Rebels (4-6) this season, Regensburg rushed for 916 yards and 10 touchdowns on 155 carries (5.9 avg.), while Fox totaled 913 yards and nine touchdowns on 132 carries (6.9 avg.) Regensburg also recorded 105 receiving yards and one touchdown to 215 yards and three scores for Fox.
<b>WITH 1,829 YARDS</b> between them, it was a rushing output that any coach would enjoy. For SYA's Gary McInturff, who coached the boys when they were in seventh grade on his 85-pound SYA American team, he had that sort of production and loved it.
Though his team used several offensive sets, McInturff would often use a split-back formation with Regensburg and Fox lined up evenly behind his offensive tackles. When the team shifted into the I-formation, Regensburg would block for Fox.
"They weren't selfish and at that age that's pretty key," McInturff said. "You have some kids who want to run the ball and don't want to block, but they were both good blockers too."
Like many relationships these days, the one between Regensburg and Fox is kept alive digitally. Whether it has meant a text message, instant message or the occasional phone call, the duo has kept close tabs on how each other's football careers.
But as both teams' seasons ended last Friday, Regensburg and Fox might not talk as much during the winter and spring sports seasons. Then again, maybe they will.
"I wish I could've seen him out there on his last game," Fox said. "But of course, I'm going to call him up and brag to him … but of course we're still going to be great friends."