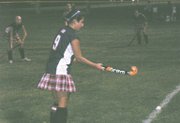 Continuity is a hard sell in high school sports considering coaches and players are constantly on the move, whether it's to another job or to college following graduation.
But the truly successful high school programs around the area almost always tend to have a system and a coach in place for multiple years.
So when former T.C. Williams field hockey coach Bob Eavenson — who had built the Titans into a consistent field hockey contender in the northern region — decided to hang up his whistle after last season, the reaction was to try and promote from within.
And with a JV program that had not lost a game in more than two years, the program didn't have to look very far for a replacement.
"That's the cool thing. I coached them when they were eighth graders, freshmen, some sophomores, and some of them were juniors last year when I had them" said new coach William Heresniak, who led the school's JV team for 11 years prior to this season and had won more than 30 games in row the past three years. "So they know me. They know how practices are run. They know what I expect. It's good because it's a tightly knit group, a great bunch of kids."
Heresniak was a natural choice for a team returning 16 seniors after a regional playoff loss against Edison ended its season a year ago. He's brought with him many of the same principles Eavenson employed, and an attitude that there will be no drop off in competitiveness despite the coaching transition.
Still, though, there were some subtle changes to be made, but that's where having 16 experienced seniors used to winning comes in.
"They had different coaching techniques and styles, so it has been a little switch over," senior midfielder/defender Linzi Burstein said. "Both are really for the basics, but they have different angles of going into the games."
Led by Burstein, senior defender Katie Mulberger, and senior goalie Amy Greco, the Titans have continued their success thus far, starting the season with four straight wins. A surprising 1-0 loss at Mount Vernon last Thursday was their first defeat of the season.
So far, Heresniak has noticed only subtle changes in his players since his days coaching them at the JV level.
"It takes more motivation to get them to work hard but they still, for the most part, bust their butts," Heresniak said.
But judging from the team's reaction to its first loss of the season, it hasn't lost any of that passion for winning developed under Heresniak at the JV level.
"This loss is going to teach us to never lose again," Burstein said emphatically as she left the field.