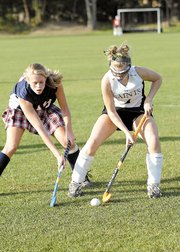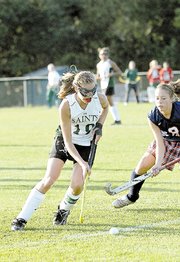 Judging from the smile on St. Stephen's/St. Agnes coach Marsha Way's face last Tuesday afternoon, it didn't much matter that commemorative t shirts celebrating her team's historic season a year ago had just now arrived.
"Finally got the shirts," she said after her current team had just finished defeating Alexandria rival T.C. Williams, 3-0, to improve to 10-0-1 this year.
Who could blame her for still reveling in the accomplishments of a Saints squad that completed what she calls the "trifecta" — winning the ISL regular season title, ISL tournament, and the VISL state title?
That doesn't mean Way, now in her 31st season coaching field hockey at SSASA, is overlooking just how capable her current team is of pulling off the same feat.
"This team is without a doubt as good as last year," said Way of the 2007 Saints, who finished the year with a 23-0-1 record. Ten players return from that state championship team.
Way said this year's team has a better skill level and more depth to wear opponents down. It was certainly the case against the Titans, who hung tough in the first half, entering halftime in a scoreless tie.
The Saints, currently No. 2 in the state rankings, were up to the challenge, breaking the stalemate just more than five minutes after the intermission thanks to a goal by senior Kelly Austin. Seniors Emily Connor and Jessie Coffield added goals later in the half to seal the deal.
The win gave the Saints a little redemption for their 2007 counterparts. Last year, T.C. Williams tied SSASA in their annual matchup, the lone blemish for the Saints trifecta team.
"It doesn't mean anything in our league, it doesn't mean anything for our state rankings," Way said of the matchup with the Titans, "But it means everything for the kids because it's their rival. … They didn't like that blemish."
<b>THE LOSS DROPPED</b> T.C. Williams to 6-5 this season, but four of those losses have come to some of the best teams in the state, including narrow one-goal defeats to top public school teams Lake Braddock, South County, and West Springfield.
Titans coach Williams Heresniak said the team is not lacking in effort, it just has some "gelling" issues. T.C. Williams has three more regular season games to get things in order before the Patriot District Tournament begins on October 20.