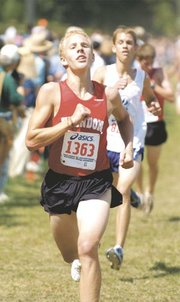 Herndon's recent showing at the Oatlands Invitational cross country meet in Leesburg two weeks ago received mixed reviews from Hornets' head coach Pete Sherry.
The Herndon boys were a strong fifth place overall in the 59-team varsity "B" race. They were led by senior Todd Van Luling, who was 30th overall in a field of more than 400 runners. But Sherry was hoping for his top runners to finish higher overall.
"The boys up front didn't run as well as I hoped," he said. "The boys in the back did."
Even so, the coach was pleased with Van Luling's showing. He timed at 17 minutes, 42 seconds on the hilly 5K Oatlands course.
"I thought it was a solid race for him," said Sherry.
Meanwhile, on the girls' side, Herndon, competing in the elite varsity "A" race, struggled as a result of some injuries and illnesses. As a result, the Hornets did not do well in the team standings. The team's top two finishers were Carolyn Hennessey and Laura Ortel, 59th and 60th overall, respectively.
"We're not as deep as the boys," said Sherry, of the girls' team. "It was not a good day. We only had four runners finish. But I'm certainly not worried."
There is no reason to be overly concerned about the Herndon girls, the defending Northern Region champions who have all of their top runners back from last year. The main objective for the Hornets will be getting back to full strength health wise by the time the season's postseason rolls around.
"We still have districts and regionals," said Sherry, in regards to the upcoming postseason meet dates. "We should be fine. Everyone's training well."
<b>ONE PARTICULARLY</b> bright spot for the Herndon boys' program at Oatlands was the outstanding race by the Hornets JV runners in the Underclassmen JV Race which took place earlier in the day on the Leesburg course. Herndon was led by sophomore Jack Belo and freshman Harrison Murn, who finished 10th and 11th overall, respectively, with times of 18:28.
Herndon, in garnering first place among 57 teams, scored 83 points, besting second place Oakton (90). Meanwhile, Thomas Jefferson was third overall with 141. Local school South Lakes (413) was eighth place.
Oakton's top finisher in the JV underclassmen race was sophomore Tyler Montanino, who was fifth overall. Meanwhile, for South Lakes, Nick Tucker led the Seahawks with a 26th overall finish.
<b>COACH SHERRY</b> was not on-hand at the Oatlands meet. A die-hard New York Yankees fan, Sherry spent that Saturday at Yankee Stadium where the Yankees were closing down the renowned "House That Ruth Built" ball park with a final series against the Orioles. The Yankees will play in a new "Yankee Stadium" next year.
"I've been going to [Yankees] games since 1976," said Sherry. "I've seen a bunch of playoff and World Series games. I saw [legendary Yankee] Don Mattingly's last game."
Sherry informed his Herndon squad earlier during the week prior to the Oatlands meet that he would be away on the baseball trip. He was perfectly confident with the leadership the Hornets would have from his assistant coaches and team parents.
"The team understood why I wasn't there," said Sherry, who traveled to the Bronx with his brother-in-law. "They were fine with it."
Not only did the Yankees win the Saturday afternoon ball game in front of a nostalgic, sold-out crowd, but Sherry also got himself a souvenir baseball during pre-game batting practice.
This Saturday, Herndon will be competing at the annual Octoberfest meet. Unfortunately, the Hornets will likely have several of their runners taking SAT's that same day, so they will not be at full strength.
"Most seniors aren't going to run," said Sherry.
The following Saturday, Herndon will travel to New York to take part in the Manhattan Invitational.