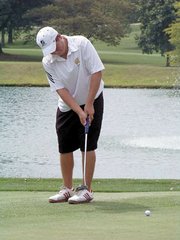 Westfield senior Tim Ritter sat with his legs crossed on a small hill surrounding the 18th green at International Country Club late Monday afternoon, thumbing through his iPhone and paying sporadic attention to a text message on the screen.
Because Ritter was the first member of Westfield's golf team on the course this day, naturally, he was the first one off of it. So Ritter used this time to avoid the clubhouse and instead watch his teammates as they completed their rounds at the annual Cougar Classic.
What Ritter saw when each foursome passed through met his seal of approval, as the Bulldogs recorded five scores in the 70s and posted a first-place team score of 302. Ritter, meanwhile, won the individual title with his round of 74.
"I was just wondering how everybody else was doing because I wanted to win this," Ritter said.
With the golf season now in full swing, Westfield finds itself trying to answer the question of how to replace two of its top players from last season, Brian Keith and Jack Debell. The Cougar Classic -- an annual event hosted by Oakton High School -- offered such a platform, with top teams such as Robinson, Madison, South County and Lake Braddock teeing off as well.
In the absence of Keith and Debell, Westfield now carries a much smaller team; however, its size is not necessarily indicative of its talent level. Besides Ritter, senior Sara Stanley was able to finish with a round of 75, which was good enough for second place after a tiebreaker separated from Robinson's Alex Austin.
"We lost a couple key players, so everybody's kind of wondering, 'Does Westfield still have anything?'" head coach Tim Vigotsky said. "It's good to get off to a good start."
<b>STANLEY SAID</b> that her experience at the Cougar Classic last year was horrendous. She didn't remember her score or where she placed. All told, it was a round and a tournament that she'd just as soon forget, especially when it's juxtaposed with this year's version.
"This is the first year I've done quite well," Stanley said. "It feels really good."
Throughout the summer Stanley had struggled off the tee, both with distance and direction. Cutting the ball, Stanley said, was her most frequent problem as the ball would routinely slice far off to the right. In an attempt to curtail the problem, Stanley swapped drivers, switching from a Taylor Made Burner with 13.5-degree loft to the same Taylor Made Burner model with 10-degree loft.
"I've had some trouble with my driver recently, but [Monday] I was hitting it really well," said Stanley, a senior who tied for eighth with a two-day total of 154 at last fall's Northern Region championships. As a team, Westfield won the region title in 2008 with a five-stroke victory over Langley.
Besides Ritter and Stanley, Wesley Liu shot a 76 at the Cougar Classic and tied for fourth, while Shabril Brewer's 77 had him tied for fifth. Jimmy Saunders rounded out the individual scoring with a T-6 78.
A year after winning district and region titles, Westfield has developed a singular goal. Yes, the Bulldogs have been knocking on the doorstep at the Virginia AAA state tournament, finishing third in 2008. But Westfield was second after the state tournament's first day and still feels that it's capable of winning the program's first-ever state trophy.
"We need everybody to play well," said Ritter, who won the Concorde District's individual title last fall. "We're not as deep as last year, but we still have the players. We still have the skills. We just have to put some good rounds together and we'll get it."