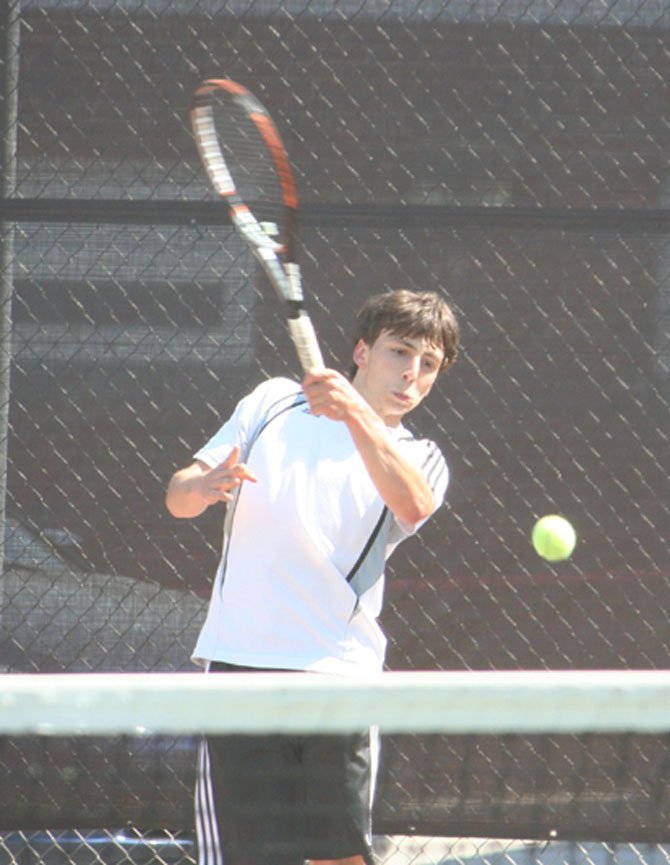 Vienna — The Madison High boys' tennis team, in a Liberty District home match on Friday, April 20, defeated Marshall High, 6-3.
The visiting Statesmen gave the Warhawks a good match and the score was tied at 3-3 following singles play. However, Madison swept the three doubles matches to earn the team win.
Madison was missing its No. 4 and No. 6 singles players, Matt Bosco and Alex Russell, who were on college visits.
The following are the results of the singles matches: Madison's John Adam over Adam Ghazzawi at No. 1; Marshall's Nick Koludrovic over John Nothaft at No. 2; Marshall's Ryan Feenick over Alec Ostapovicz at No. 3; Marshall's Dan Bleykhman over Albert Chang at No. 4; Madison's Aaron Plymack over Stefan Wilkinson at No. 5; and Madison's Gunnar Baskin over David Holmes at No. 6.
Madison swept in doubles with Adam and Baskin defeating Ghazzawi and Koludrovic, 10-6, at No. 1; Nothaft and Ostapovicz defeating Feenick and Bleykhman, 10-5, at No. 2; and Plymack and Alex Dondershine besting Wilkinson and Holmes, 10-5, at No. 3.
Madison, with the team win, improved its season record to 6-3. Marshall's record went to 3-6.
A day earlier, Madison, which is under head coach Glenn Adams, traveled to Ashburn for a district match at Stone Bridge High School. There, the Warhawks defeated the Bulldogs, 8-1.
The match was closer than the final score indicated, according to coach Adams, as most of the singles and doubles matches were competitive throughout.
Due to an injury during singles play to its usual No. 2 player John Nothaft, Madison chose to substitute freshman Ben Cliff into Nothaft's place in the No. 2 doubles slot.
Madison's singles winners were: senior John Adam (No. 1), senior John Nothaft (No. 2); senior Matt Bosco (No. 4), junior Albert Chang (No. 5), and senior Alex Russell (No. 6).
Madison swept in doubles play behind its No. 1 team of John Adam and Gunnar Baskin; its No. 2 team of Alec Ostapovicz and Ben Cliff; and its No. 3 team of senior Aaron Plymack and freshman Alex Dondershine.
IN ITS MOST RECENT match going into this week, Madison lost to district opponent and three-time defending region champion Jefferson, 6-3, last Wednesday, April 25, at Wakefield Park.
The Warhawks did not go down easily, winning at the No. 1 singles and No. 1 doubles positions as well as at No. 2 doubles, and almost pulling off a win at No. 2 singles. Madison's top singles player, John Adam, impressively won his third 11-10 tiebreaker match of the year. The senior, against one of the region's top players, Jefferson's Stephen Hu, rallied from a 9-6 deficit to force the tiebreaker.
Freshman Ben Cliff subbed for Madison's absent senior, Alec Ostapovicz, in the No. 3 singles position and senior Matt Bosco filled in for Ostapovicz in the No. 2 doubles slot. Jefferson's No. 2 singles player, senior Ben Rosenblum, had to sit out the match with a shoulder injury.

Madison's lone singles winner was John Adam, who defeated Hu 11-10 (7-4 tiebreaker). At No. 2, Madison's John Nothaft lost a close 11-9 match to Kevin Wan.
Madison won at No. 1 and 2 doubles with John Adam and Gunnar Baskin victorious at No. 1 and Nothaft and Bosco winning at No. 2.