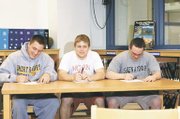 The Langley High girls' lacrosse</b> team defeated South Lakes, 19-2, in a Liberty District contest played on April 16. The game was the first for the Saxons coming off of spring break week and kept them unbeaten on the season at 7-0.
Langley maintained a commanding 13-0 lead over the Seahawks at halftime, allowing Saxon coach Richard DeSomma to incorporate some new plays in the second half and to put junior varsity goalie Tuscany Justice into the game.
Overall, Langley played a strong game, utilizing good teamwork to create scoring chances. Stellar games for Langley came from: Maggie Kovacs (three goals, three assists); Elspeth McGarry (two goals, five assists); Erin Wiltse (one goal, one assist); Sarah Orlando (one assist, three draws); Annie Swanson (three goals); Jillian Canning (three goals); Lee Quinby (two goals); Torrie Zarella (two goals); Anna Helmer (two goals); and Katy Wingo (one goal). South Lakes' goals came from Tess DeAtley and Lara Duffy.
"The girls quickly got back to their usual style after coming back from their spring break with great passing and team work," said DeSomma, the Saxon coach. "It was the perfect type of game for our girls to work themselves back into the toughest part of the season. [We have] four very competitive games in the next 10 days against the top ranked teams in Virginia, which will be interesting since Langley is ranked fifth in the state."
<b>Langley High senior Brittany Fruin</b> will play college soccer for the U.S. Naval Academy. Fruin has been a four-year starter for the Saxons and has played for her club team, the 2007 State Cup champs FCV Netforce, since her under-9 season. She also played on the State ODP team for two years. Fruin will report for Induction Day at Navy on July 1.
<b>The following Northern Region Coaches</b> Poll for boys' and girls' lacrosse teams is presented by TripleEDGE Lacrosse. Boys' Top 10: 1. Chantilly (5-1), 2. Langley (8-0), 3. Woodson (6-2), 4. Robinson (4-2), 5. Madison (7-1), 6. Oakton (4-3), 7. Herndon (6-4), 8. West Springfield (6-3), 9. Annandale (4-1), 10. Westfield (3-4). Girls' Top 10: 1. Chantilly (10-0), 2. Robinson (5-2), 3. Woodson (3-2), 4. Langley (6-0), 5. Madison (7-1), 6. Westfield (4-2), 7. Stone Bridge (6-2), 8. Oakton (3-3), 9. Annandale (8-2), 10. South County (5-1).
<b>The following Northern Region baseball</b> teams are ranked in this week's Coaches Poll: 1. West Springfield; 2. Chantilly; 3. Lake Braddock; 4. Westfield; 5. Langley; 6. South County; 7. McLean; 8. Stone Bridge; 9. Madison; 10. Yorktown. Other teams receiving votes: Woodson, Oakton, Marshall and Robinson.