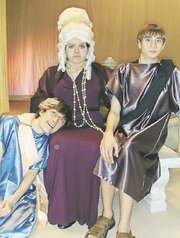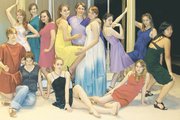 The cast of Fairfax High's musical comedy, "A Funny Thing Happened on the Way to the Forum," has been rehearsing since February. But the school's Cappies entry has actually been years in the making.
"I've been planning this show for four years," said Director Wendy Knight. "I've waited a long time to do it. Even the sets were planned years in advance."
She got the idea when she first saw students Jeremy Tuohy and Zach Goubeaux, who play Pseudolus and Miles Gloriosus, respectively. "Jeremy has this Jim Carrey comedy forte, so I knew he'd be perfect for this part," said Knight. "He and Zach grew up together and have this chemistry that just works."
But it extends beyond these two actors. "Everyone on stage is in the perfect role. It's like they were made for it," said Knight. "They just are these people. I think the show was just written for this group of kids."
Ultimately, the audience will be the judge. Show times are Friday-Saturday, May 1-2, at 7:30 p.m.; Sunday, May 3 (the Cappies performance), at 2 p.m.; and Friday-Saturday, May 8-9, at 7:30 p.m. (May 8 is the understudy show). Tickets are $8, students and senior citizens, and $12, adults, at www.fxplayers.org, and $12 and $15, respectively, at the door. But, said Knight, "People are encouraged to buy their tickets ahead of time."
As Pseudolus, senior Tuohy plays Hero's slave in ancient Rome. "He's always trying to get his freedom," said Tuohy. "He's a beguiler, clever and cunning. Hero wants to marry Philia, a courtesan in the house of Marcus Lycus. So Pseudolus agrees to help Hero, in exchange for his freedom. But there's one problem after another."
Tuohy says it's tough portraying someone with shady morals, but he loves portraying such a fun character. "He's got a witty banter with everybody and lots of comedic lines," said Tuohy.
His favorite number is "Comedy Tonight" because it's the play's signature song, the ensemble participates and it's showy and entertaining. He also says the audience will love the play because "we took an already-hilarious script, cast the funniest people I know at Fairfax and put our own style and comedic bits into the whole thing. The audience will have a blast, and we will, too."
Junior Maddy Goubeaux portrays Domina Senex, Hero's mother and Senex's wife. "I'm the Darth Vader of the show, the dreaded mother," she said. "I'm evil and pretty much dreaded by my husband and loved by my son. I really do love my husband, but have a passion for Roman soldiers."
Hardest, said Goubeaux, is "getting it across that I'm not all rough and bad. I'm sweet and gentle to my son, but strict to everyone else. But I love being the bad guy. Villains are fun to play and more memorable than other characters."
She likes the number her brother Zach sings, "I, Miles Gloriosus," because "he brags about himself in the song and he got typecast. It's also a catchy tune that gets in your head and doesn't leave."
She said the audience will enjoy the show's sheer farce. "It's funny and witty, and people have to pay attention and think to catch the jokes," said Goubeaux. "It's complicated like a web, and they'll be figuring it out, but it's a good feeling when it all works out at the end."
Since the play contains particular, typical characters, she said the audience will relate to them and will like their being "overdone and extremely exaggerated." Besides that, she said, "Musicals are always fun." She's also pleased that students from a variety of interests participated.
"It's cool to have a show with kids from dance team, orchestra, chorus, leadership and art," said Goubeaux. "We're a large arts school, and this brings us all together."
Portraying one of Gloriosus' soldiers is sophomore Andrew Seale. "I'm usually the soldier at the back of the line, not paying any attention to his commandments," said Seale. "Lots of the accidents and things going wrong with the soldiers are usually my fault. I'm bumbling and I keep everyone laughing."
It's Seale's first play. "It's a terrific part to start with because it allows me creative freedom with my character," he said. "A lot of it is improvised and I've learned how the other actors practice to get ready for their parts, so it's good experience."
He likes the song, "Everybody Ought to Have a Maid," because "it's catchy and makes people laugh. There are lots of double entendres and the actors singing it do it well." Seale said the audience will connect with Pseudolus "because everyone wants their freedom, in some way or another, and this is a good way to laugh and see how someone else got it."
Sophomore Nadine Rousseau plays Vibrata, one of the dancing courtesans at the house of Lycus. "I'm the animal-like, wild one," said Rousseau. "I dance as powerfully as I can and make some animal sounds and gestures."
As a member of the school's dance team, she incorporates ballet techniques into her acting. She said it was tough learning the choreography so quickly, but acting's fun "because I'm more shy, so it's nice to be a different person for a night."
Stage manager is senior Mike Dixon, who runs rehearsals, taking line, blocking and singing notes. He also makes suggestions about the lighting, costumes, set, sound and props. During the show, he'll be in the booth calling sound, lighting and scene-change cues.
"It's my first time doing it, and I'm having a wonderful time," he said. Although it's difficult telling his friends they've missed a line, he's learned "how to take charge." He especially likes getting to fill in for any actor absent from a rehearsal. "What's cool is being second to the director and the unofficial understudy for every, single actor," said Dixon.
Junior Bailey Johnson designed costumes for more than 50 characters. "Togas, and gorgeous dresses for the courtesans, with bright colors, sparkles and jingles," she said. "I worked with crepe-backed satin and cotton, plus black tulle for some capes. I especially enjoyed designing the red, satin dress for the courtesan, Panacea. I put more heart and soul into it. It was the first one I did and she's one of my friends."
Several students helped with the sewing, and co-designer Katelyn Schultz created the courtesan outfits for the Geminae twins — sparkly, one-shoulder dresses, and Tintinabula — a pink-brocade gown with gold flowers.
Johnson found satisfaction completing the costumes and knowing that people will see them. "I hope they'll convey the characters' places in the show and the happiness and emotions going on during their particular scenes," she said.
The show features a cast and crew of about 60, plus a live pit orchestra of 30, and it's the school's first-ever, musical Cappies entry. Knight says family members will enjoy watching their children play, not work, because this show is such fun. "You can just go creative and wild," she said. "You just fuel the kids' imaginations, let them go and watch magic happen."