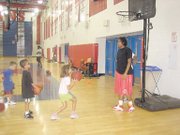 <b>T.C. Basketball Clinic a Success</b>
Last week, the T.C. Williams girls' basketball coach Cavanaugh Hagen and the Titan basketball program hosted its first-ever clinic for children. More than 25 participants from Alexandria showed up for the week-long event. In addition, the program gave away five scholarships for those less fortunate to come learn fundamentals from the T.C. Williams basketball teams.
Players from the girls' and boys' basketball teams at the school served as counselors, and in the process, it reminded them of why they had grown so fond of the sport as they got older.
"It was fun for me because the kids learn so quick," said Billy Rowland, a rising senior for the Titans. "They all got better."
Among those helping out were Rowland, Tierra Ruffin-Pratt, Charnelle Huggins, Jazmin Norman, Millicent Cole, and Ashley Crenshaw.
"It was just great to see all the kids progress," said Hagen.
The T.C. Williams girls' basketball team is also hosting a car wash fundraiser from 10 a.m. to 2 p.m. on Saturday Aug. 15 at 107 East Bellafonte Ave. T.C. shirts will be sold, as well as hot dogs and hamburgers. For more information, contact coach Hagen at 703-307-9836.
<b>Senior Swim Week</b>
Swimmers age 55 and older can swim at no charge at any of the Northern Virginia Regional Park Authority's five waterparks the week of Aug. 10 through Aug. 14. Proof of age is required and hours at each park may vary.
NVRPA's waterparks include Downpour at Algonkian Regional Park, Great Waves at Cameron Run Regional Park, Atlantis at Bull Run Regional Park, Pirate's Cove at Pohick Bay Regional Park and Upton Hill Regional Park. For more information visit www.nvrpa.org or call individual pools to confirm hours.